STONEWARE
STONEWARE is one of the most popular items in MOHEIM's collection.
It has an unglazed simple matte texture on the outside, and a wide range of size, colors, and types.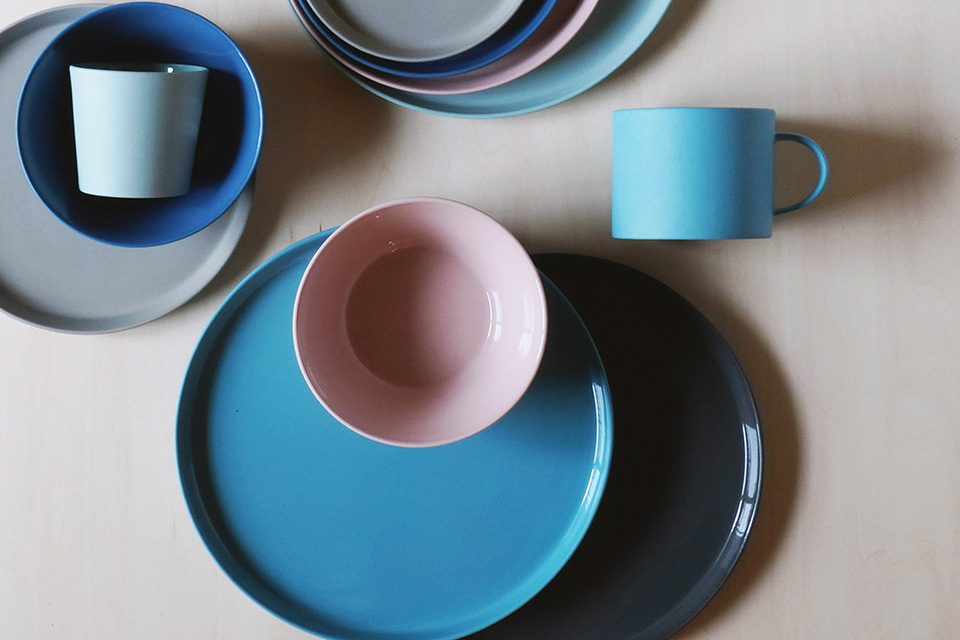 Choose your favorite color of STONEWARE.
Get a small bit of happiness and an uplifting feeling in your daily life.
STONEWARE transforms everyday life into splendid scenery and lifts up your spirit.
Tableware that makes your mealtimes and coffee breaks more fulfilling.
---
PRODUCT STORY Vol.2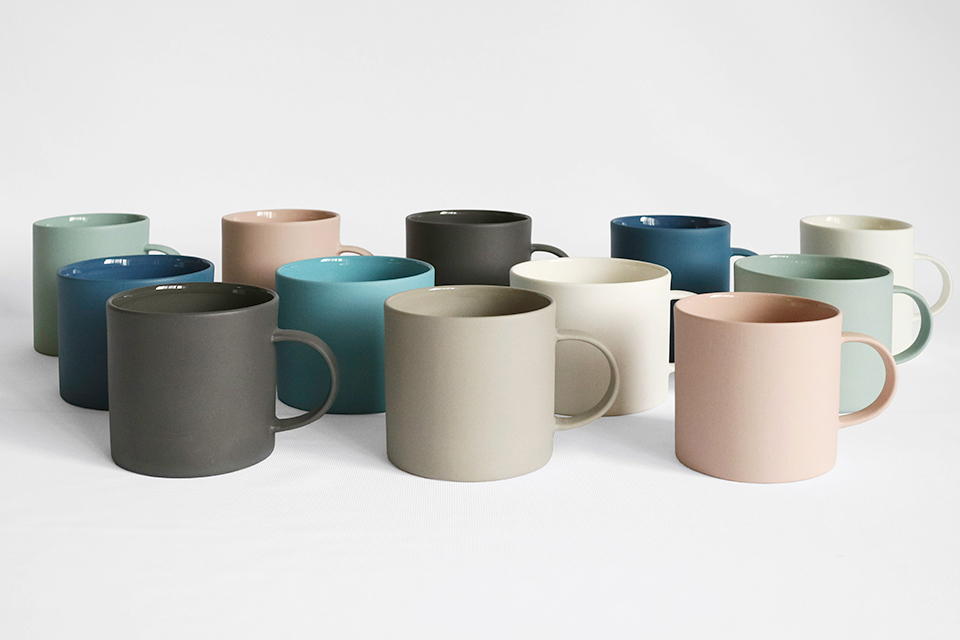 — At first, please explain about "stoneware" as a material. It is different from porcelain or pottery, isn't it?
I see. Maybe the name of stoneware is not so common as porcelain and pottery (china).
In Japan, it is called "half-porcelain" or "Yakishime chinaware (high-fired unglazed ceramics)" and is fired at a high temperature, between 1100 and 1250 degrees Celsius. Its character is an intermediate stage between porcelain and pottery.
With regards to this, pottery is fired at temperatures between 800 and 1200 degrees, and porcelain at 1300 degrees, 100 degrees higher than pottery. Therefore, the firing temperature is at the mid-point between porcelain and pottery.
For example, some famous Japanese earthenware, such as Shigaraki ware, Bizen ware, or Tokoname ware are actually stoneware. Japanese stoneware's roots can be traced back to ancient times, specifically the Tumulus period (the middle of 3rd century to 7th century).

— Shigaraki ware and Bizen ware are stoneware!
(I thought all earthenware were considered pottery…) What was the motivation for you to develop STONEWARE in the first place?
I wanted to create tableware with a matte texture to begin with, however, I found out that the hurdles for production of that kind of tableware in Japan were pretty high.
Of course, there are some ceramic wares with matte texture, but in most cases, they are created one by one by artists. Also the color variation is extremely limited, and mass-production at a reasonable cost is very difficult.
But there was a fortunate encounter for us when we visited Vietnam for research. We miraculously found a place which could grant our wishes. Then, the development and production that we were about to give up on were able to proceed straightaway.
— Please let us know the most attractive point of STONEWARE, which that predestined encounter brought about.
The point I am most particular about is the simple matte texture of outside, which reminds you plain unglazed ceramics. General earthenware is mostly fired after glazing, but STONEWARE doesn't use glaze on the outside.
This was what I really would like to be implemented. There are some coatings to make a finished matte texture, but this method was unable to create the simple and plain texture I wanted.
On the contrary, you can enjoy a glossy luster inside because of the glaze, which is totally opposite from the outside texture, which reminds you of natural soil or stone.
This glaze finishing inside makes the effects of stains from coffee or food on STONEWARE the same as that of general earthenware.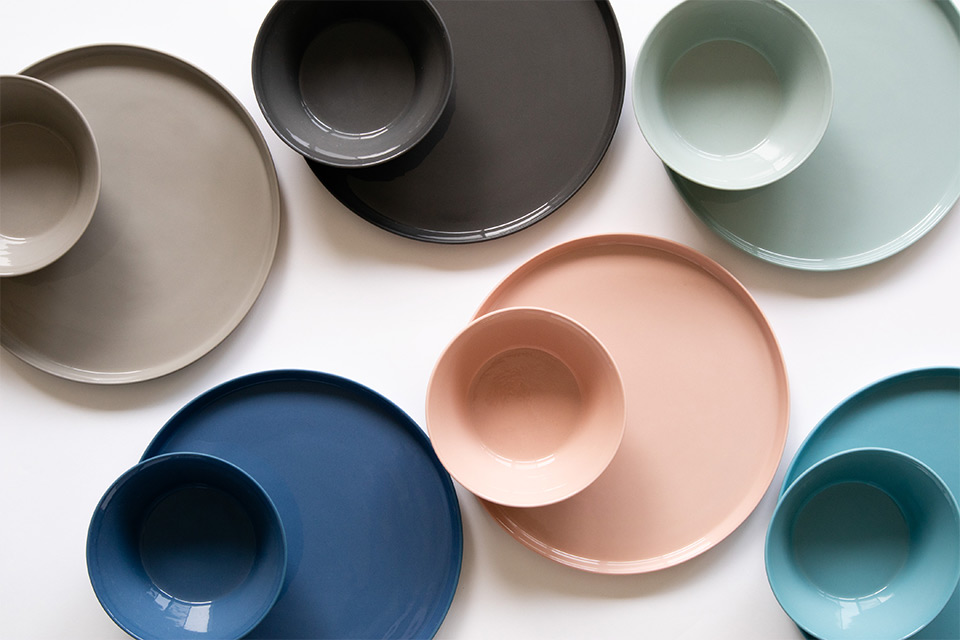 — The colors are also pretty attractive with 6 unique variations.
Yes, indeed. These color variations, with their smoky and gentle pale tones, are also one point I really thought out. I hope these selected colors tickle your sense and make you think "I want to collect them with all of these colors!"
Also, I wanted to produce this series with as many colors as possible, because I would like people to lend a touch of color to their everyday life with STONEWARE.
As I mentioned before, a main coloring method for earthenware is glazing. But this is not the case for STONEWARE. The color is kneaded into its material, the clay itself. This method can create a texture in which you can feel some kind of warmth. This is also one of the most important elements of STONEWARE, equal to the texture, because this was one of my top priorities and my wish was granted by the encounter at that workshop in Vietnam.
Also, maybe you can feel a warm taste from whole atmosphere of STONEWARE, which is expressed by its texture, colors, and forms. I think this is a special attraction coming from the unique skills of the Vietnamese craftspeople.
— Not only the color variation, but also the size range is also pretty wide.
You can choose the size of PLATE from 150, 210, and 260, and MUG from 250, 330, and 380.
Each number represents the size, the diameter for the PLATE and the capacity for the MUG (filling the MUG 5-10mm from the top). TUMBLER has 2 sizes, S (small) and L (large), and the smaller sized one can be used as a cup to hold dipping soup for Japanese buckwheat noodles.
The reason why each item has several size ranges is that we would like people to enjoy "selecting" for their favorite sizes or purposes. Actually, some users have given us their comments, such as "the sizes are just right and I feel that they are really user-friendly," and this kind of feedback makes us pretty happy.
— By the way, STONEWARE has been adopted at some accommodation facilities, hasn't it?
Yes, STONEWARE has been chosen by some worldwide premium hotels. For example, MUGs were selected as amenities for rooms at the "AC Hotel byMarriott Tokyo Ginza" which was opened in 2020.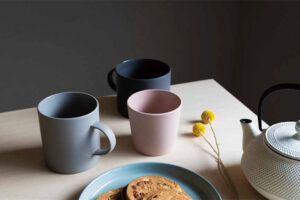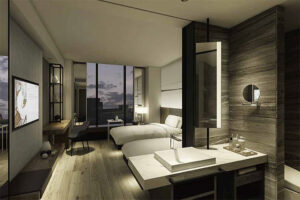 "MOGANA," a luxury hotel in Kyoto, has TUMBLERs in its rooms which are originally customized with its logo.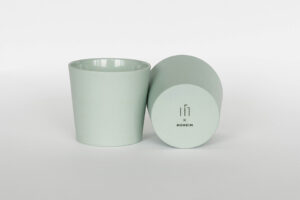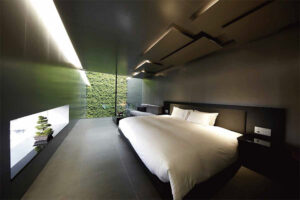 We have constantly gotten inquiries for STONEWARE from various companies and shops. We are so glad to realize that STONEWARE has been getting attention from all over and is recognized as useful tableware.
— At the end, are there any recommended selections or combinations of STONEWARE for users?
Mostly, people consider of choosing tableware in just one or two colors and unify the tone with their favorite colors. For instance, one obvious example of a selection is like this…, you choose pink for yourself and gray for your partner, and thus one color each from MUG, BOWL, and PLATE.
However, if you had chosen various colors, perhaps more than 3-4 colors of STONEWARE, maybe you would notice that many combinations work surprisingly right and well together. If you liked all 6 colors of STONEWARE and found it difficult to choose just 1 or 2, then I recommend you choose different colors for each item (see the picture below). It can become a new discovery for you to enjoy the harmony of various tints.