BEAMS RECORDS × MOHEIM
In collaboration with BEAMS RECORDS, a special customized model of LINDEN BOX has been created, converting our popular LINDEN BOX into a container for record storage.
MOHEIM Creative Director Shigeichiro Takeuchi talks about this special model with Mami Hirose, who is involved in everything from item selection to planning and development at BEAMS RECORDS.
BEAMS RECORDS was founded in 1999 as a label that introduces the latest trends and the essentials of the era through music.
They provide a selection of music that you should listen to "now" which will not fade away over time, regardless of genre or era.
The company also offers a wide range of audio products and accessories that bring out the best in music.
BEAMS RECORDS believes in a life enriched through music.
In collaboration with BEAMS RECORDSin October 2023, a special customized model of LINDEN BOX has been created, converting our popular LINDEN BOX into a container for record storage.
In regard to this special model, MOHEIM Creative Director Shigeichiro Takeuchi talks with Asami Hirose, who is involved in everything from item selection to planning and development at BEAMS RECORDS.
They talk about everything from the beginning of the project – how this model came to be, and in what situations they would like it to be used, etc.
---
MOHEIM STORY
Takeuchi
First of all, could you tell us about BEAMS RECORDS?
Hirose
In 1999, "BEAMS RECORDS" was launched as a music label. In 2000, we opened a store and have been operating as both a music label and a record store. After a period of time, the label is now based in the record store and operates as a store that offers not only musical works, but also music-related items.
As a record store, we are unique in the wide range of what we offer. For example, we try to carry a variety of genres and eras, from the most cutting-edge music of our time to reissues with everlasting appeal.
Takeuchi
So you are saying that BEAMS RECORDS doesn't have a specific genre of music for the line-up?
Hirose
Yes, that's right. We have a well-balanced assortment of products to meet various needs.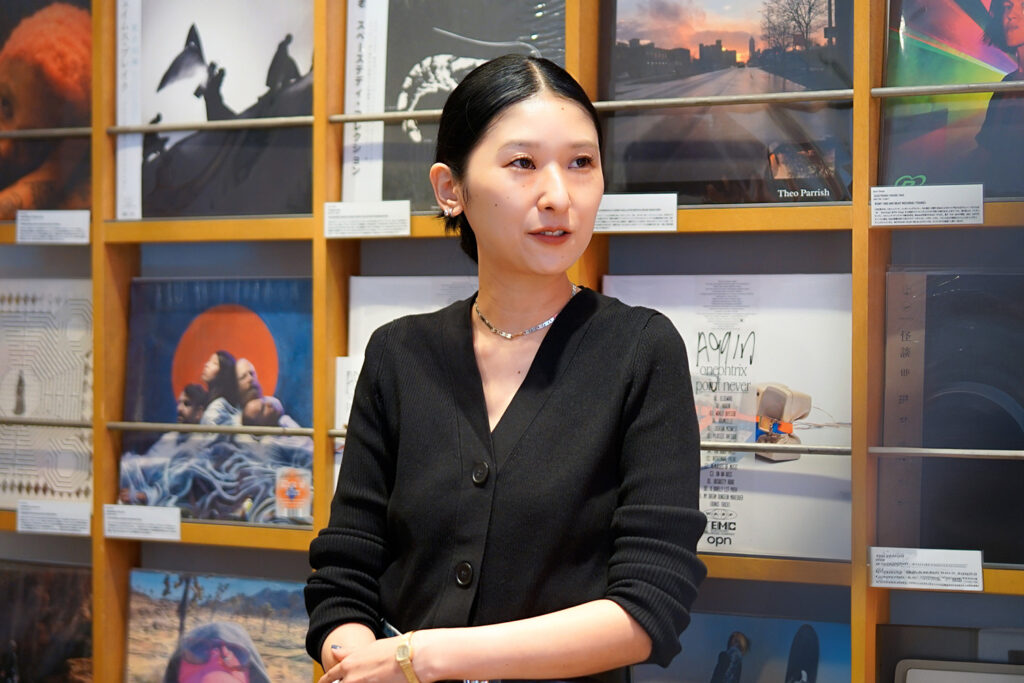 Takeuchi
Among these, are there any points the shop is particular about?
Hirose
The record lineup is one thing, but what makes us different from other record stores is that we actively communicate with our customers. For example, fashion and apparel stores often interact with customers as they select products, and that is the type of customer service we aim for.
Takeuchi
I guess it's more like a dialogue with the customer, listening to their tastes and interests, drawing them out and coordinating with them.
Hirose
You're right, we are practicing the BEAMS way of customer service here at the record store.
Another feature is that we offer not only music tracks and artworks, but also audio devices and peripherals and other goods and items associated with music.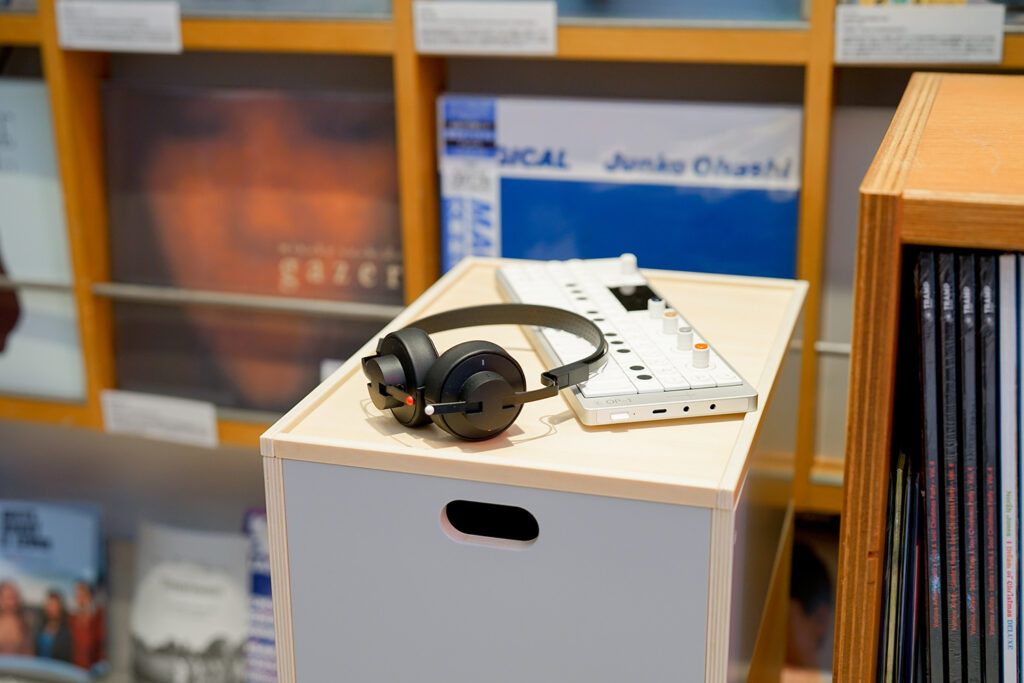 Takeuchi
The lineup of peripherals that BEAMS RECORDS carries is a little different from that of other record stores. They are not only looking for functionality, but they are also paying attention to design, selecting products from the perspective of product design that fits in with any interior.
Hirose
I am glad you feel that way.
Originally designed cassette players have been a hit item for the past few years. Artists sometimes dare to release their works in the cassette tape medium, so the demand for cassette players is still growing. With this background, BEAMS RECORDS also offers original cassette players. There are a lot of people in the younger generation who are looking for record players as well. The ones we carry here are mainly priced around 30,000 yen. Our selection is relatively affordable, but we also offer players with good sound quality.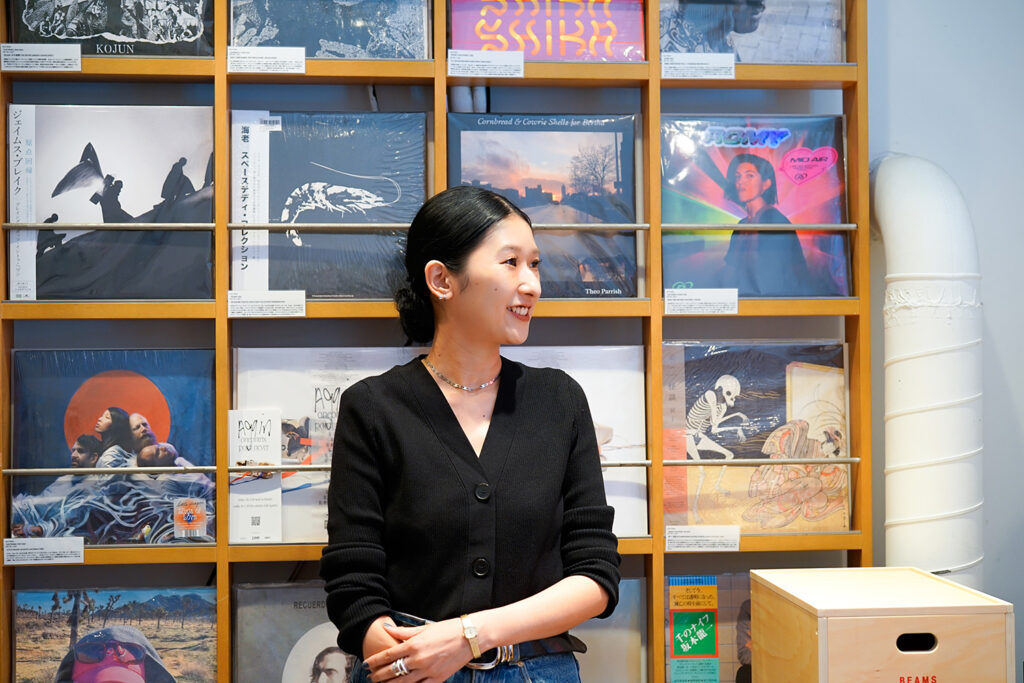 Takeuchi
I am beginning to understand the world view of BEAMS RECORDS.
I would like to ask you about this collaboration. At the beginning, what were your first impressions of MOHEIM?
Hirose
I was introduced to MOHEIM by an acquaintance. I was impressed by the wide range of items you offer and the care you put into every product they make.
Takeuchi
Thank you. How did you react when MOHEIM told you about the LINDEN BOX collaboration for LP records?
Hirose
When MOHEIM offered the project, we were coincidentally just thinking about wooden boxes for storing records. So, when we heard about this idea, we were like, "We really want to do this!"
Moreover, I could relate to the background of the MOHEIM brand and its careful craftsmanship…so I thought it would be great if we could collaborate and work together.
Takeuchi
LINDEN BOX is one of MOHEIM's longest-selling items. "MOHEIM x BEAMS RECORDS LINDEN BOX for 12-inch Vinyls" was completed following that basic form.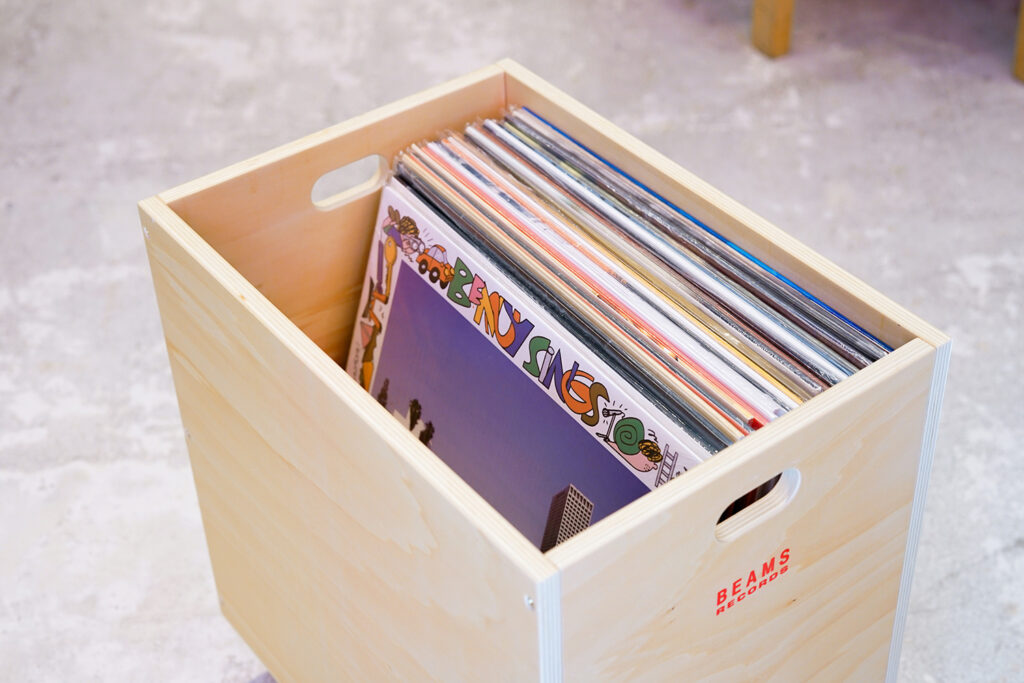 Hirose
First of all, when I was thinking of making a record storage, I was thinking of using "wooden boxes" as I mentioned earlier. However, I had the impression that "wooden boxes" that were large and could hold a lot of records were already available in the market…. I thought it would be better to use something with a slightly smaller capacity, in other words, something that would not take up too much space and could be used for a long time without getting in the way, especially in Japan's not-so-spacious living environment. The LINDEN BOX was perfect for that size.
This special-order model can be stacked with MOHEIM's regular line of LINDEN BOXes. The reason for this is that the size of the original LINDEN BOX was just right for our concept of a record storage box.
Takeuchi
This size was chosen from the standpoint of fitting in well with the typical Japanese living environment.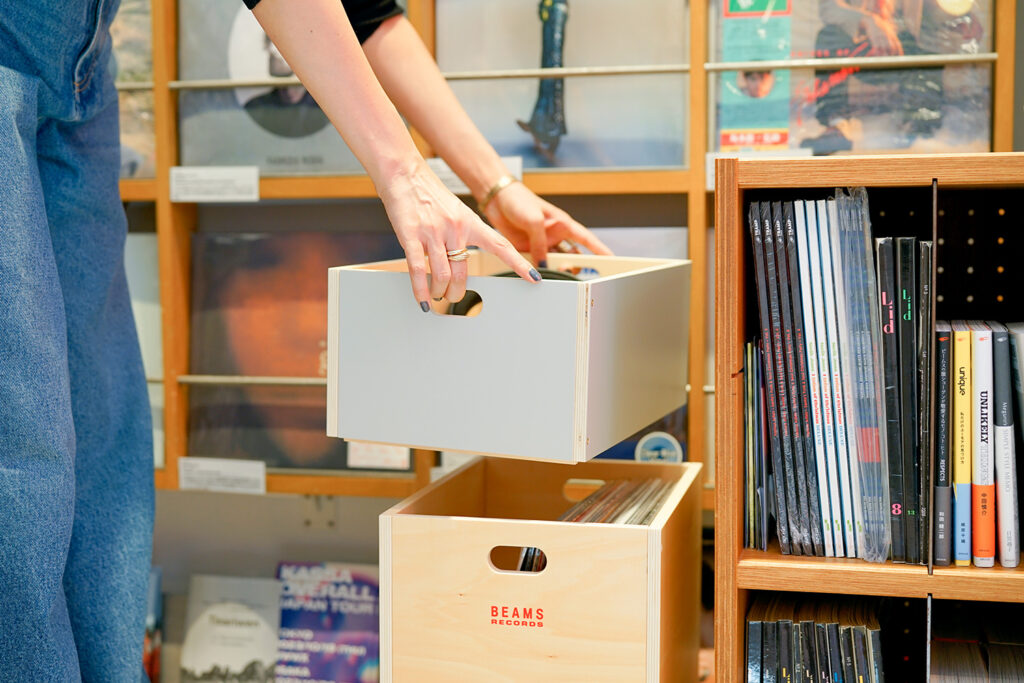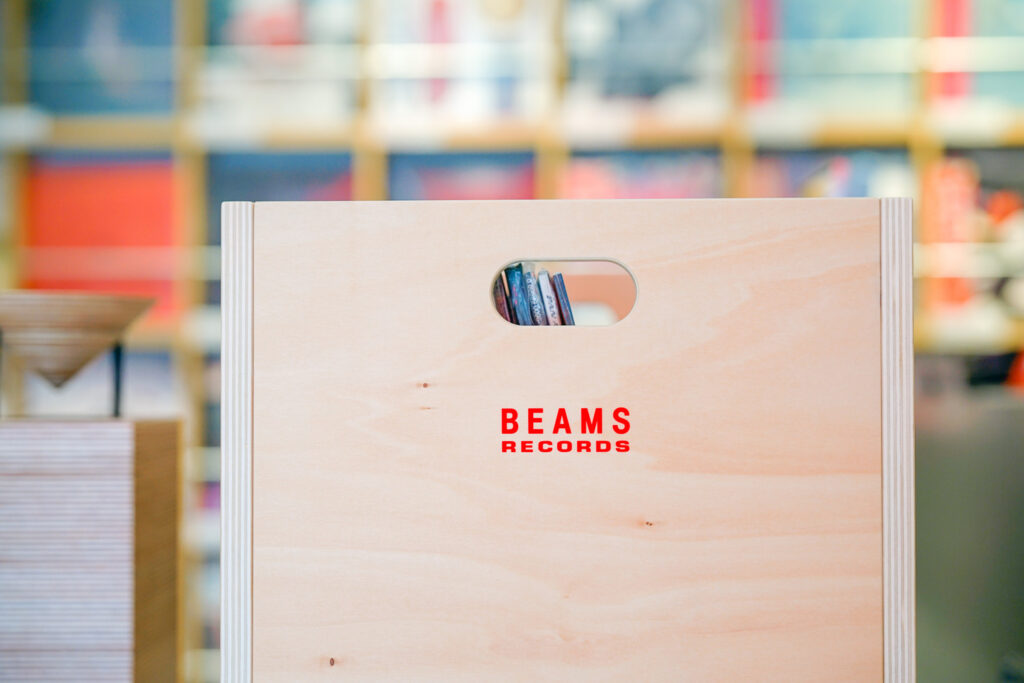 Hirose
In terms of the design, we also valued the atmosphere created by the LINDEN BOX and placed the BEAMS RECORDS logo discreetly. We also kept in mind that the box should fit in well with the interior design.
Takeuchi
The key phrase "blending in with the interior" has always been important to MOHEIM, and we are glad that you respect this design concept.
What kind of user would you expect this special-order LINDEN BOX to be, and how would you like it to be used?
Hirose
I have two main patterns in mind.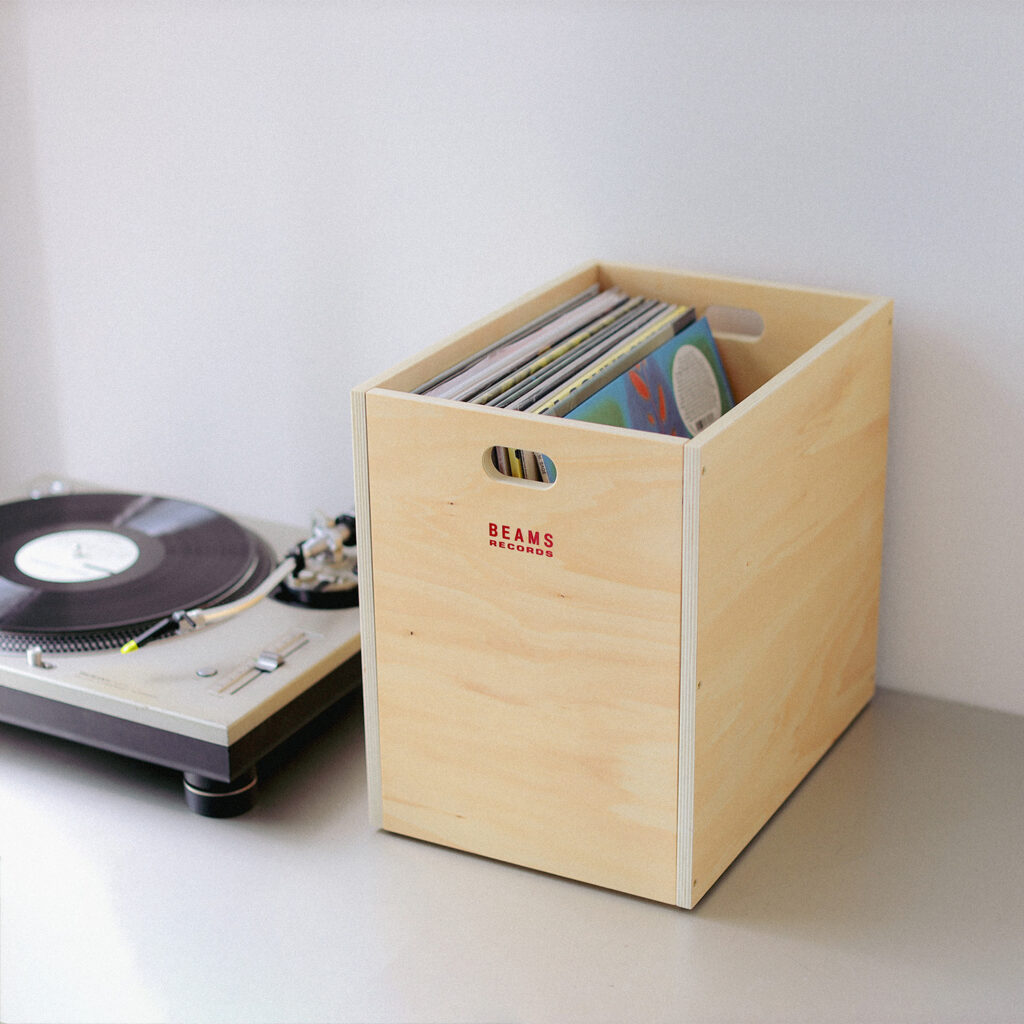 Photo by BEAMS RECORDS
First of all, some people have a large amount of records which are stored on a big shelf. Those who really have a lot of records, instead of having to search for them on the shelf and pull them out… every time they want to listen to a record, they probably keep the records they listen to frequently these days in one corner… But I think they may have trouble finding a place to put them, and they end up propping them up on the wall, or putting 10 or 20 of them in a flat pile…. I myself have often witnessed such a scene. With that in mind, I thought it would be a good idea to create a "storage place for the records which are listened to most often these days."
Takeuchi
I see. I sympathize with that idea very much.
Hirose
On the other hand, there are also beginners who are just starting to buy records. They don't have enough LPs to buy a big record cabinet yet, but they would like to have a good place to store them. We also made sure that the size of the record cases would make it easy for such people to pick one up.
However, I don't think we need to think only in terms of people who own records. I think it is a conveniently-sized storage box, so I hope users will enjoy using it in various ways, not only for records, but also by leaving it up to their imagination.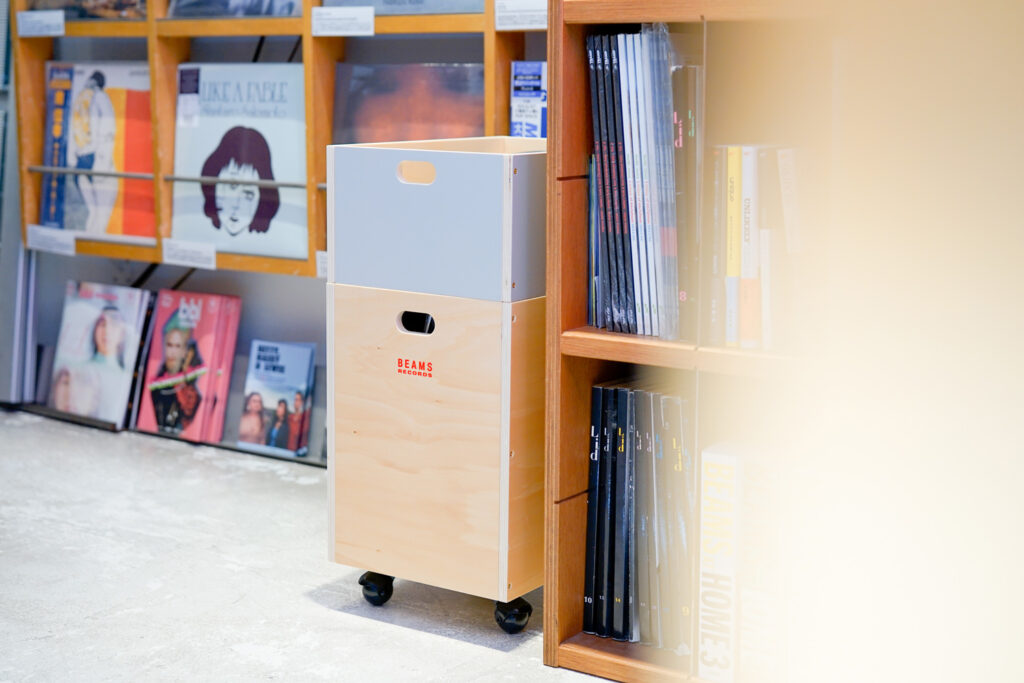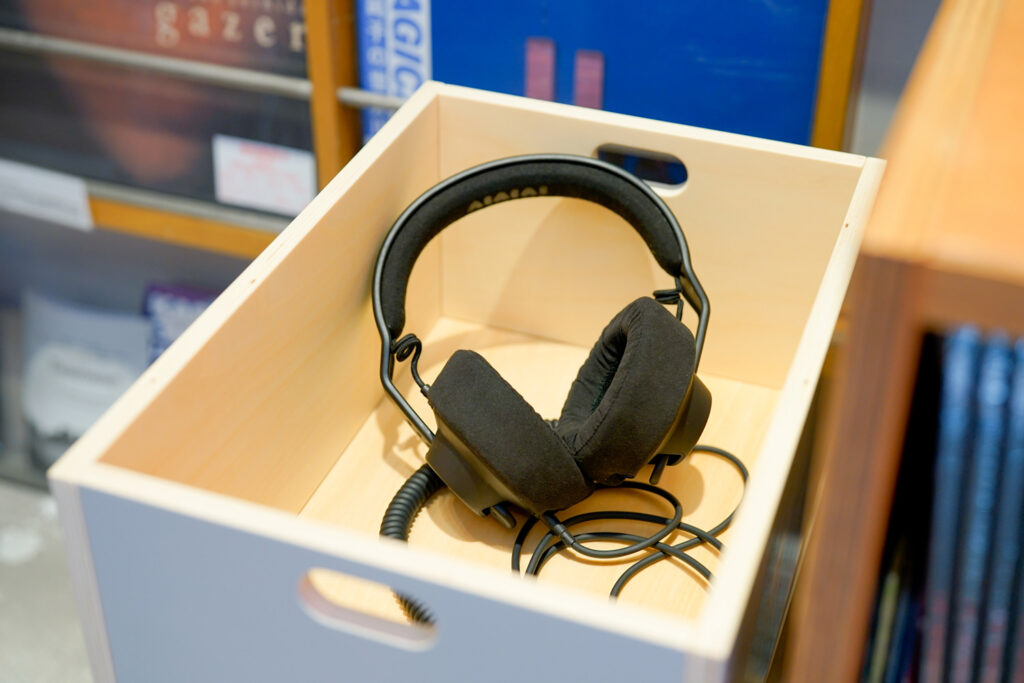 Takeuchi
How about feedback from staff and customers?
Hirose
Many of our staff members find the minimalist but warmth of the material appealing. Also, some commented on the shape and size of the product, saying that it looks easy to use. In particular, they are interested in the fact that it can be stacked with the regular LINDEN BOX line, or combined with LID (lid) and FLAT DOLLY (caster stand), which are sold separately. We also have many people who are interested in the ability to expand and customize the product.
Takeuchi
Although we've really just begun with the release of this item, looking back on the development to this point, how has the collaboration with MOHEIM been?
Hirose
I feel that MOHEIM's careful and sincere attitude is evident in their manufacturing and the products themselves. They have taken our requests into consideration for even the smallest detail in this project, and it has been a real honor to work with them.
Takeuchi
Thank you very much. For this special-order model, we naturally adjusted the location and height of the handles to the millimeter level, and we also made no compromises in the position and color of the logo. We are very happy that we were able to incorporate so many of BEAMS RECORDS' special touches and make it a reality.
---

* "MOHEIM x BEAMS RECORDS LINDEN BOX for 12inch Vinyls" is only available at BEAMS RECORDS stores and online store.
---
About BEAMS RECORDS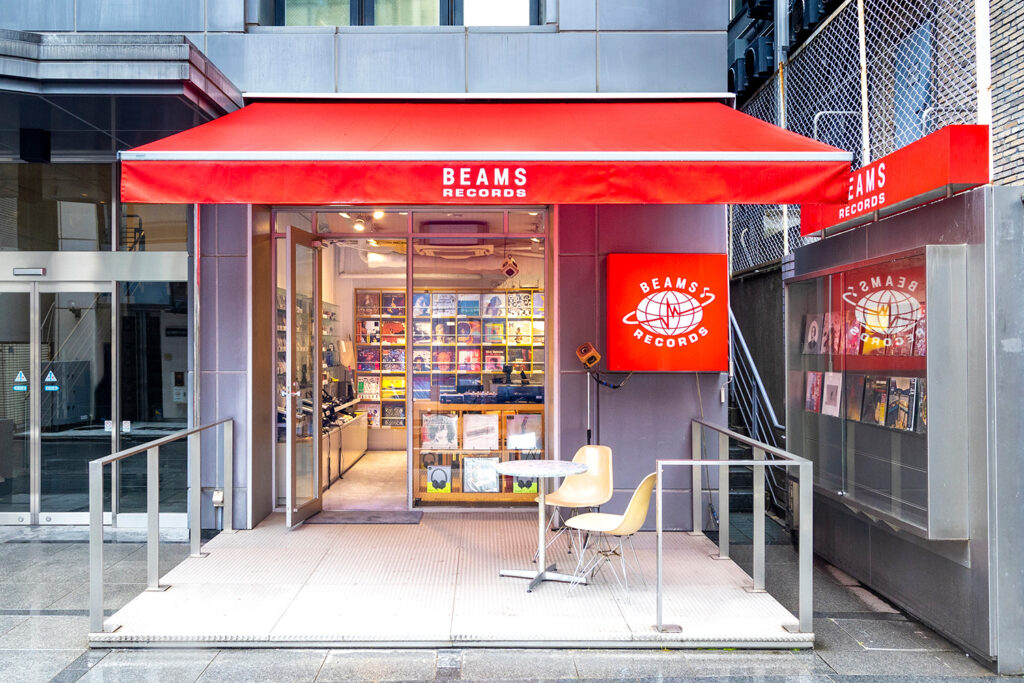 Founded in 1999 as a label that introduces the latest trends and the essentials of the era through music.
BEAMS RECORDS stocks timeless and enduring music from all genres, alongside audio merchandise such as earphones, speakers, and accessories like jewelry and bags — items that highlight the beauty of music.
BEAMS RECORDS believes in a life enriched through music.
https://www.beams.co.jp/beamsrecords/
https://www.instagram.com/beams_records_official/