NICOLAI BERGMANN HAKONE GARDENS × MOHEIM - Part 2
"Nicolai Bergmann Hakone Gardens" was created as a place where Nicolai Bergman, a floral artist from Denmark, feels the inspiration he gets in Japan is more tangible, and used that to create a place that makes it possible to leave a lasting legacy.
Nicolai Bergmann himself is talking about the collaboration with MOHEIM.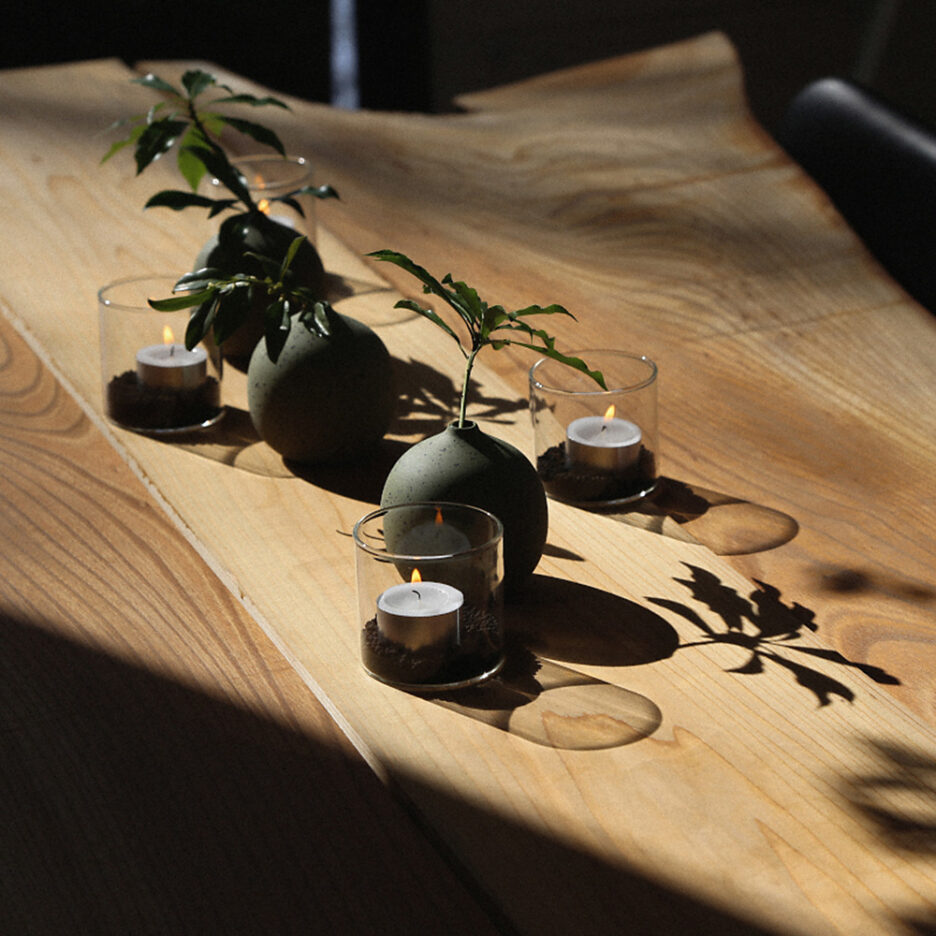 "Nicolai Bergmann Hakone Gardens" makes the most of Hakone's nature as it is, and aims to be a unique place as a garden designed by Nicolai Bergmann.
Nicolai Bergman, a floral artist from Denmark, feels the inspiration he gets in Japan is more tangible, and used that to create a place that makes it possible to leave a lasting legacy.
What is the path to the creation of STONEWARE MUG and COLOR DROPS, which were born from the collaboration between this place and MOHEIM?
---
MOHEIM STORY
From the "NICOLAI BERGMANN HAKONE GARDENS × MOHEIM – Part 1"
Takeuchi
COLOR DROPS was also selected as a collaboration item following MUG.
Hirata
Nicolai likes "circle" as a form. He likes things that can be put together in a minimalistic way. In Hakone Gardens, there are various objects with a circle motif.
COLOR DROPS also has a moderate weight, so it looks rich even when just one flower is inserted. Also, since this COLOR DROPS has the same texture as MUG, its texture is another reason for its selection.
Takeuchi
The size was made larger than the original one.
Sasaki
Nicolai himself loves hydrangeas, and Hakone has about 2,000 hydrangeas. During the season, it becomes a truly beautiful place with many in bloom.
As you know, hydrangeas have larger heads than ordinary flowers. We wanted to make a single-flower vase in which such hydrangeas could be arranged beautifully, so we decided to make it one size larger.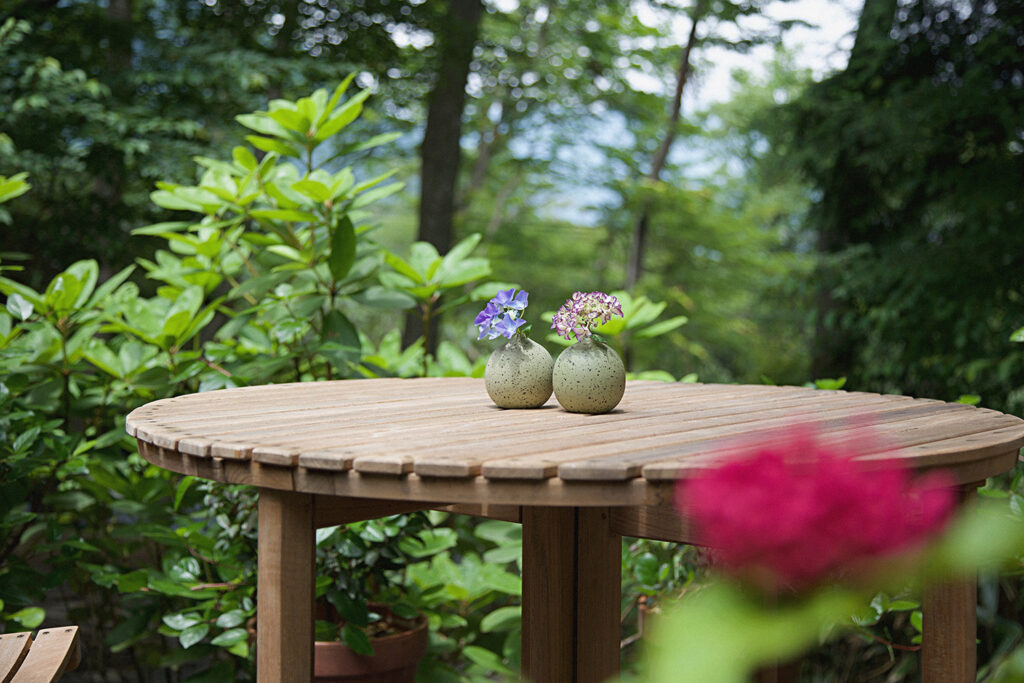 Takeuchi
It is true that larger flowers such as hydrangeas can be arranged in a more balanced way with this size. I feel that the round form of COLOR DROPS is enhanced by its larger size. What do you think, Nicolai?
Nicolai
Yes, it is. It is very pretty. As for the color contrast, that's also something I concentrate on when creating flowers, and I think it turned out good. The colors are very nice in this one too.
Also, there are many single-flower vases and other vases, but from a florist's point of view, it is difficult to find one that can actually be used properly. So I am very happy to have completed something that is easy to use and easy to arrange.
Takeuchi
Also, we did not compromise on the balance of the speckles on COLOR DROPS. Please tell us about the parts you were particular about and what you like about them.
Sasaki
As Nicolai said, the main selling point is the color, which was completed after many adjustments. We were able to create a color that is the essence of Hakone Gardens. The speckles also turned out to be very attractive, thanks to the many adjustments made to bring it as close to the ideal color as possible.
Takeuchi
I think this green is an exquisite color, and I don't think we would have arrived at this kind of green if MOHEIM had decided to create a green color on its own. This color, which really blends in well with Hakone Gardens, is the result of our collaboration.
Hirata
I think the color gradation that Nikolai thinks of is different from the Japanese sense. Even when we watch closely, he sometimes creates unexpected color combinations when making arrangements, and they just feel right. I think that kind of sense was expressed in a good way with these original colors.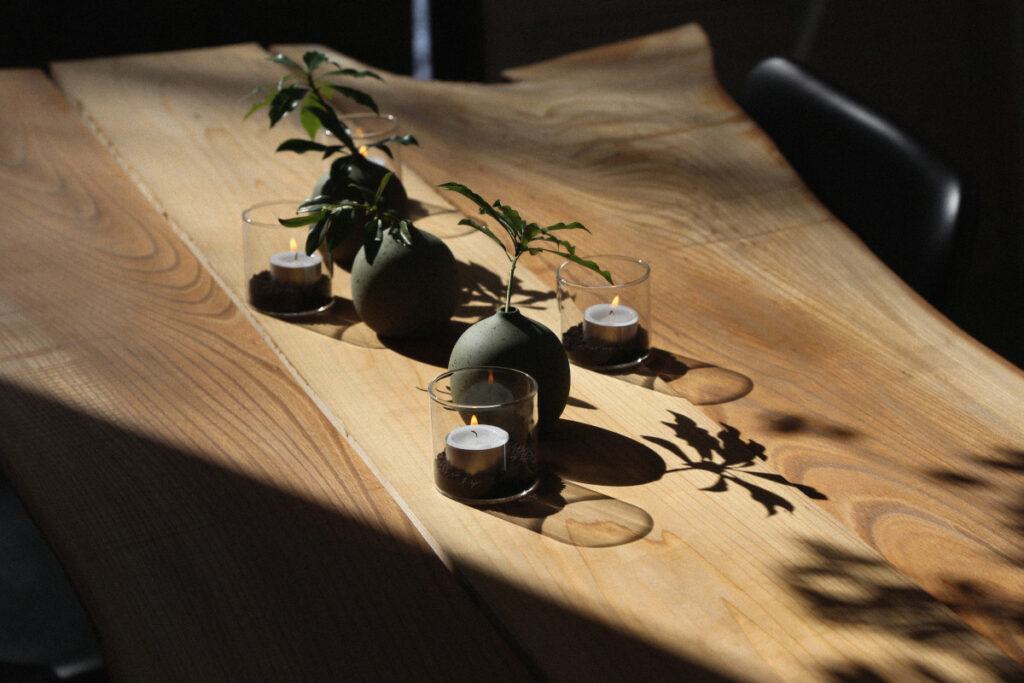 Takeuchi
Have there been any customer reactions about these items created in collaboration with MOHEIM?
Sasaki
We have a lot of customers at Hakone Gardens, and among the Gardens items, this collaboration model with MOHEIM is the one that we get the most comments on. Many of them actually purchase our products.
Hirata
I sense that you are getting a lot of attention, especially from those who are interested in design and in the same industry.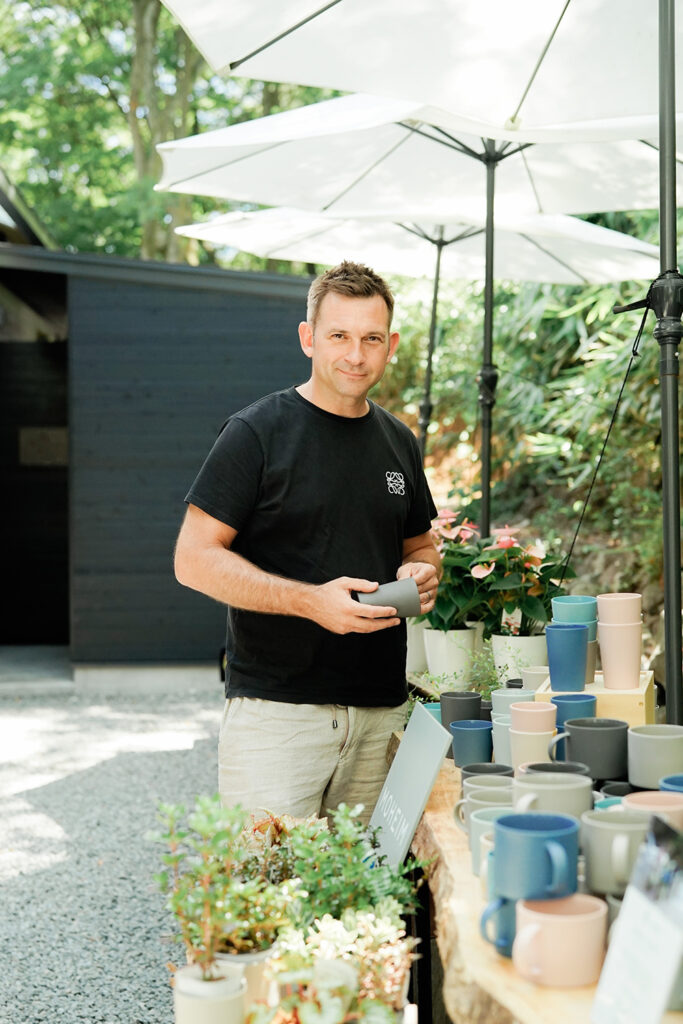 Takeuchi
It's really nice to hear the actual reaction at Hakone Gardens. Now, I'd love to hear what you expect from MOHEIM in the future.
Hirata
Nicolai understands more than Japanese people about the goodness of Japanese traditional crafts and culture, saying, "these are really good things. I believe that many traditional Japanese techniques are on the verge of experiencing a crisis of survival. "In fact, there are many flower producers in the same situation, and Nicolai supports them.
I would like to see the MOHEIM brand collaborate with traditional Japanese crafts and techniques that are currently dormant. By giving new life to MOHEIM's designs, I would like to see MOHEIM take the brand to a higher level by communicating that "Japan has this kind of technology and culture."
Sasaki
I hope that MOHEIM items can be found in more places, in other words, in global situations.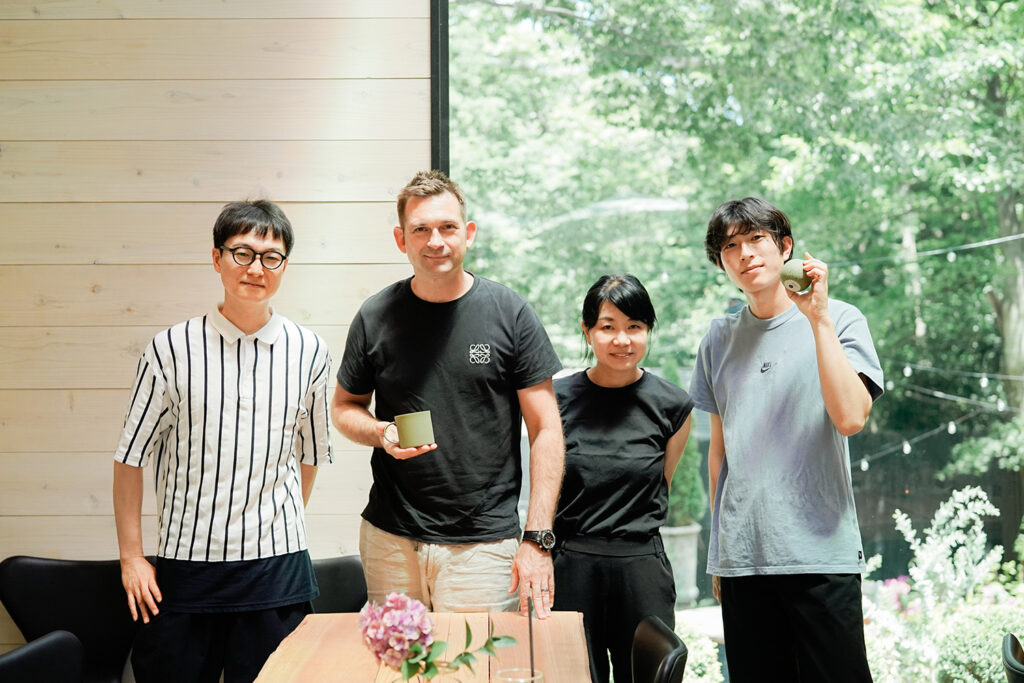 Takeuchi
MOHEIM is not a craft brand specializing in traditional crafts, but we have developed many items that incorporate craftsmanship. This is because we have respect for craftsmanship.
I myself was born and raised in Fukui and have seen many craftsmen and manufacturing sites, so I feel that this spirit is embedded in my DNA.
Hirata
Nikolai may be the same way. His grandfather had an apple orchard, and from childhood he loved growing plants and helping out. From that experience, he wanted to share the goodness of nature and nature itself, and that is why Hakone Gardens was created.
Takeuchi
For MOHEIM, we would like to continue to make items that are affordable to as many people as possible, that incorporate craftsmanship, and that people can properly appreciate for their quality.
I would love to collaborate with Nicolai Bergmann again. As for Nicolai, what items would you like to create with MOHEIM?
Nicolai
I guess it would have to be a flower vase. They don't have to be big, but I think something around 25-30 cm would be interesting. I have about two original flower vase collections for my brand so far, but I'd like to have more.
I would like to make a bottle-green one if it can be produced in glass. They are beautiful when you put flowers in them. It is difficult to adjust the color, though (laughs).
Anyway, I hope you can make a "really useful flower vase" when arranging flowers.
Takeuchi
I can't wait to work with Nicolai on product development. I look forward to working with you again in the near future to create wonderful items together!
---
NICOLAI BERGMANN HAKONE GARDENS

Nicolai Bergmann Hakone Gardens makes the most of the vast land that Hakone's nature provides.
The Nicolai Bergman team built the entire garden from scratch.
Spaces were cleared on the undeveloped land, which was covered in virgin forest. The walkways, stairs, glasshouse pavilions and even the café, NOMU hakone, were all built by his team.
While making the most of Hakone's nature as it is, their goal was to create a unique place as a garden designed by Nicolai Bergmann.
Hakone is alive with its own unique nature and its distinctive colors and scents.
The preservation of the unique ecology is the first priority of "Nicolai Bergmann Hakone Gardens" every day, Providing opportunities to integrate with nature, healing and new discoveries, Itaims to be a place where people can find inspiration.
https://www.instagram.com/nicolaibergmann_hakonegardens/
https://www.nicolaibergmann.com/
https://www.instagram.com/nicolaibergmann/
---
Nicolai Bergmann Profile
Nicolai Bergman, from Copenhagen, Denmark, is known as one of the most renowned floral artists in the world, He has been based in Japan for more than 20 years with his unique designs that fuse the Japanese and Western worlds while maximizing inspiration from Japan's unique traditions, culture, and climate.
His masterpiece is a flower box arrangement created in 2000. It quickly became a huge hit throughout Japan and is now a standard floral gift throughout the world.
He is also involved in product design and creative direction for many famous fashion brands, further expanding the scope of his activities as a floral artist.