NICOLAI BERGMANN HAKONE GARDENS × MOHEIM - Part 1
Yuko Hirata, General Manager of NICOLAI BERGMANN K.K, With Keisuke Sasaki, Brand Communications/Content Strategist, and MOHEIM Creative Director Shigeichiro Takeuchi talk in conversation about the collaboration between Nicolai Bergmann Hakone Gardens and MOHEIM.
Nicolai Bergman was also interviewed.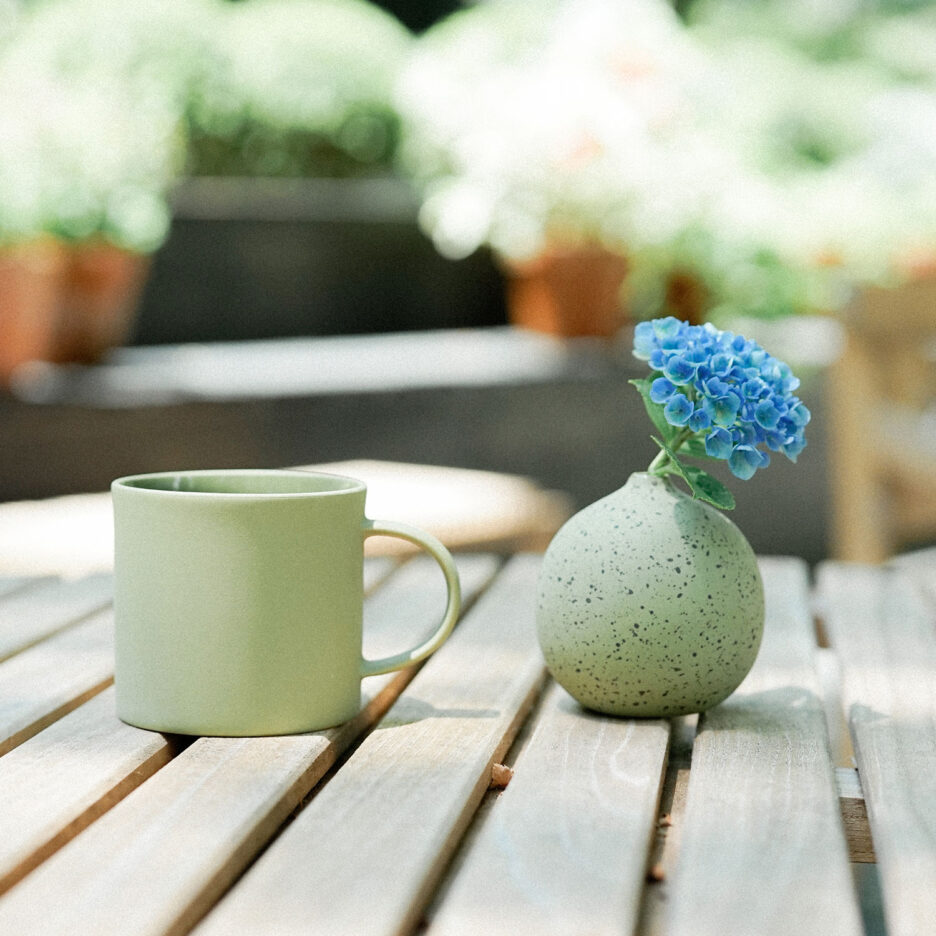 "Nicolai Bergmann Hakone Gardens" makes the most of Hakone's nature as it is, and aims to be a unique place as a garden designed by Nicolai Bergmann.
The collaboration between this place and MOHEIM resulted in STONEWARE MUG and COLOR DROPS in using an original green color, reminiscent of nature.
---
MOHEIM STORY
Takeuchi
MOHEIM was contacted by NICOLAI BERGMANN. Can you tell us how you came to know about MOHEIM?
Hirata
Before and after the opening of the "Nicolai Bergmann Hakone Gardens," we were considering various items to use and sell. I was looking for something nice to go with Hakone Gardens, and that is when I came across MOHEIM.
Nicolai Bergman is from Denmark, and in Denmark we use the word "hygge." It is a bit difficult to describe in Japanese, but it is used to express a feeling of contentment in a cozy space or happiness in small things. For example, we often say something like "ah, hygge" when we hear birds singing, or "that was hygge" after a conversation with a friend.
Sasaki
Hakone Gardens aims to be a place where visitors can feel such "hygge." We wanted people to feel "hygge" from the items they actually use at Hakone Gardens, and when we thought about what mugs would be the most accessible to customers, we decided that MOHEIM's STONEWARE MUGs would be the perfect choice.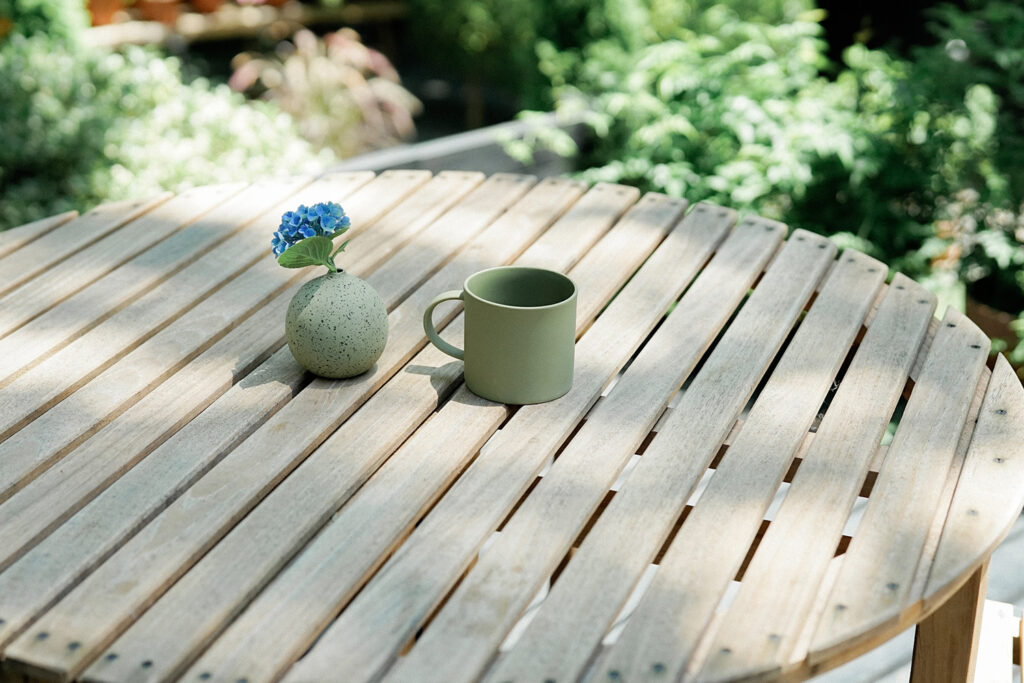 Hirata
Hakone Gardens attracts visitors of all ages. We considered the size of the mug to be just right for both adults and children, as well as being easy to hold.
Also, Nicolai Bergmann loves nature, so I knew he would love the clay-like texture on the outer surface of STONEWARE.
Sasaki
When I showed it to Nikolai for the first time, and actually, he really liked it.
Takeuchi
That's nice to know…! I'm glad.
Hirata
The Danish people have a lot of respect for Japanese products, and conversely, I think the Japanese think the same way about Scandinavian products. So there must be some kind of connection.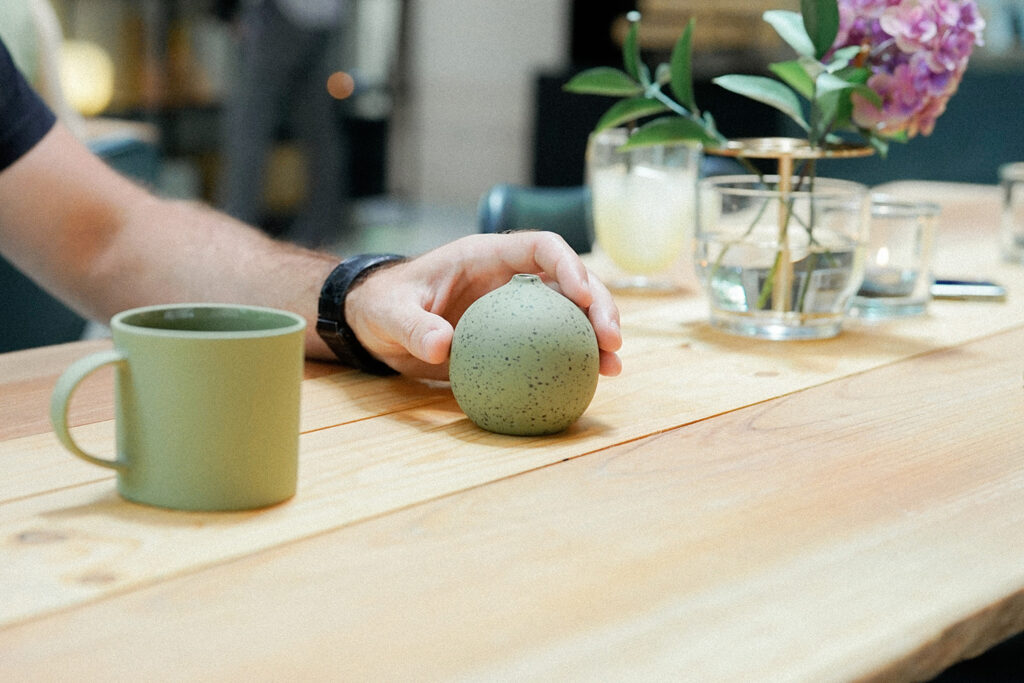 Takeuchi
The collaboration model was produced in green, using an original color exclusive to Hakone Gardens. Please tell us about your thoughts behind this color.
Sasaki
"Nicolai Bergmann Hakone Gardens" is a place where Nicolai finally realized the concept that he had been working on in his mind for more than 8 years. It was born from a concept that is 180 degrees different from the Nicolai Bergmann brand up to now. Rather than flower arrangements and flowers, we aimed to create a one-of-a-kind place where people and nature are connected through Nicolai's worldview. I think the attraction of this place is that visitors can experience the great nature of Hakone to the fullest.
When we acquired the land, it was a mere mountain of nothing but bamboo grass, but Nikolai and his staff "hand-crafted" it together. The only things we hired contractors for were the water supply, drainage, and electrical systems.
Therefore, the color of green, which symbolizes nature, is very important to Hakone Gardens, and even its logo is green. As you will see when you visit Hakone, it really is a "green" world.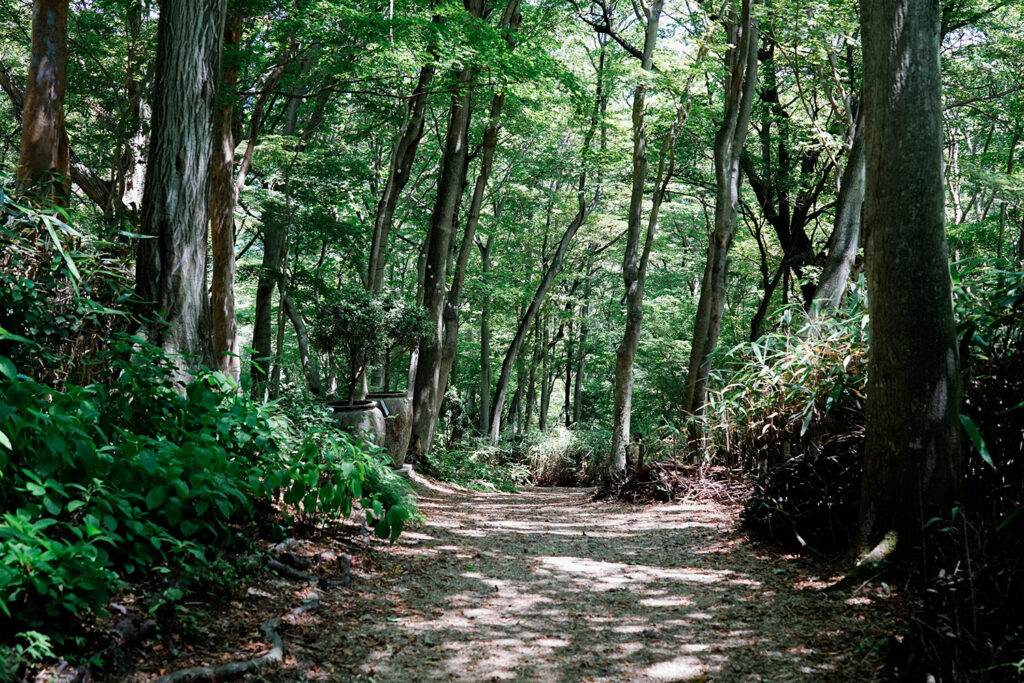 In order to have the color of the collaborative model MUG match the green of the logo, we asked MOHEIM to create a number of prototypes over and over again. We are very happy with the color, and we are very pleased with the result.
Takeuchi
The color is important to the brand concept, so we made many adjustments before finally realizing it. I am glad you are pleased with it. Nicolai, how did you feel when you saw the completed MUG?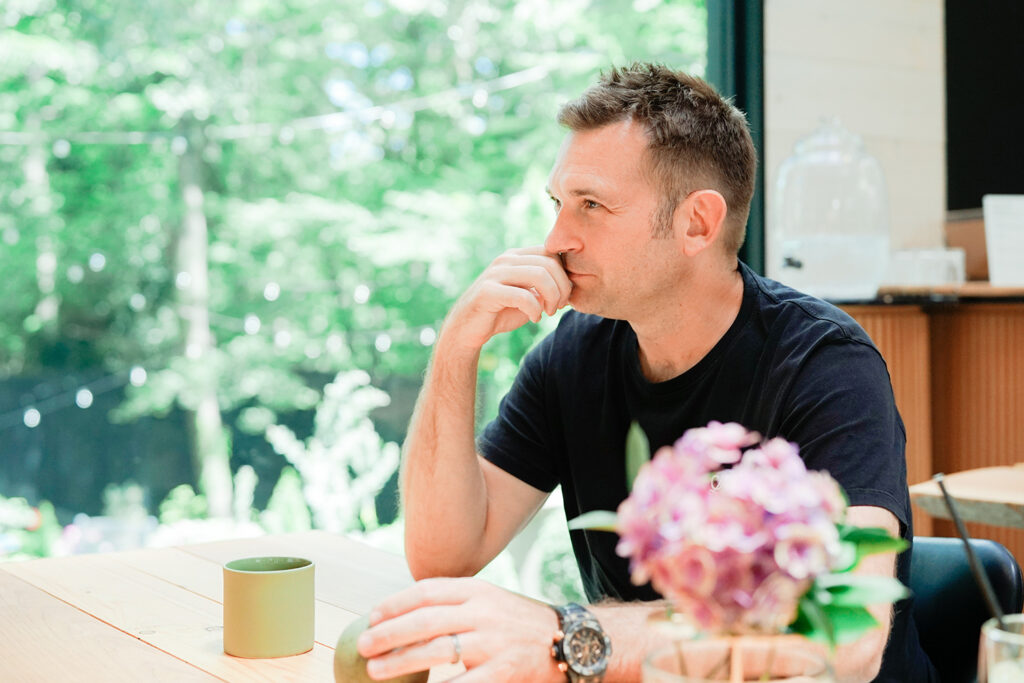 Nicolai
the design is very simple but cool…I like its simplicity.
Also, I am always quite conscious of the "front" and "back" when arranging flowers, and I like the fact that this MUG has a glossy inside but has a matte texture on the outside.
You have made the colors perfect for Hakone Gardens. These are points that resonated with me personally. I am so glad that you were able to create these items.
Sasaki
By the way, the best coffee on the Hakone Gardens café menu is the coffee served in the MUG. We are particular about the beans and serve OVERVIEW COFFEE's [EARTHRISE].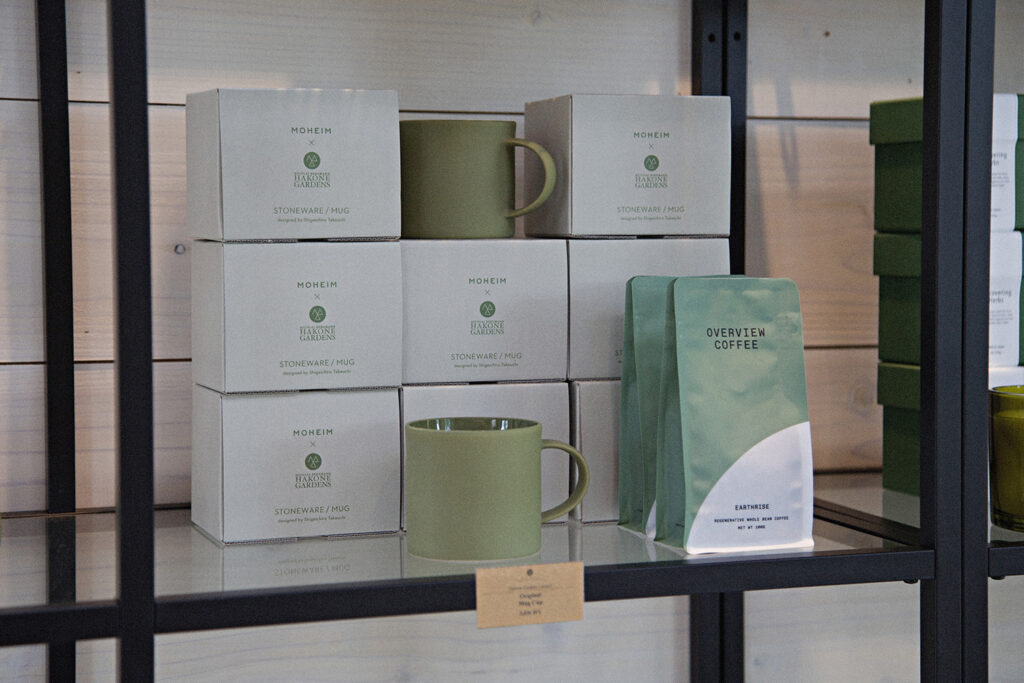 Both MUG and this coffee can be purchased as souvenirs, and they are popular with visitors to the park.
Our staff also said "Cute!" the moment they saw the MUG, and they are praising it very highly. Also, they are being used in the stores without a single one cracking: it seems that they are very strong.
Continued to "NICOLAI BERGMANN HAKONE GARDENS × MOHEIM – Part 2"
---
NICOLAI BERGMANN HAKONE GARDENS

Nicolai Bergmann Hakone Gardens makes the most of the vast land that Hakone's nature provides.
The Nicolai Bergman team built the entire garden from scratch.
Spaces were cleared on the undeveloped land, which was covered in virgin forest. The walkways, stairs, glasshouse pavilions and even the café, NOMU hakone, were all built by his team.
While making the most of Hakone's nature as it is, their goal was to create a unique place as a garden designed by Nicolai Bergmann.
Hakone is alive with its own unique nature and its distinctive colors and scents.
The preservation of the unique ecology is the first priority of "Nicolai Bergmann Hakone Gardens" every day, Providing opportunities to integrate with nature, healing and new discoveries, Itaims to be a place where people can find inspiration.
https://www.instagram.com/nicolaibergmann_hakonegardens/
https://www.nicolaibergmann.com/
https://www.instagram.com/nicolaibergmann/
---
Nicolai Bergmann Profile
Nicolai Bergman, from Copenhagen, Denmark, is known as one of the most renowned floral artists in the world, He has been based in Japan for more than 20 years with his unique designs that fuse the Japanese and Western worlds while maximizing inspiration from Japan's unique traditions, culture, and climate.
His masterpiece is a flower box arrangement created in 2000. It quickly became a huge hit throughout Japan and is now a standard floral gift throughout the world.
He is also involved in product design and creative direction for many famous fashion brands, further expanding the scope of his activities as a floral artist.