BLUE BOTTLE COFFEE STONE MUG
With its rustic unglazed matte texture and simple yet presentable form MOHEIM's STONEWARE MUG is highly popular.
Based on this texture and design, a collaboration with BLUE BOTTLE COFFEE was launched.

Makiko Busato, Brand & Product Director of BLUE BOTTLE COFFEE, and Shigeichiro Takeuchi, Creative Director of MOHEIM, shared their thoughts on the STONE MUG created in collaboration with MOHEIM.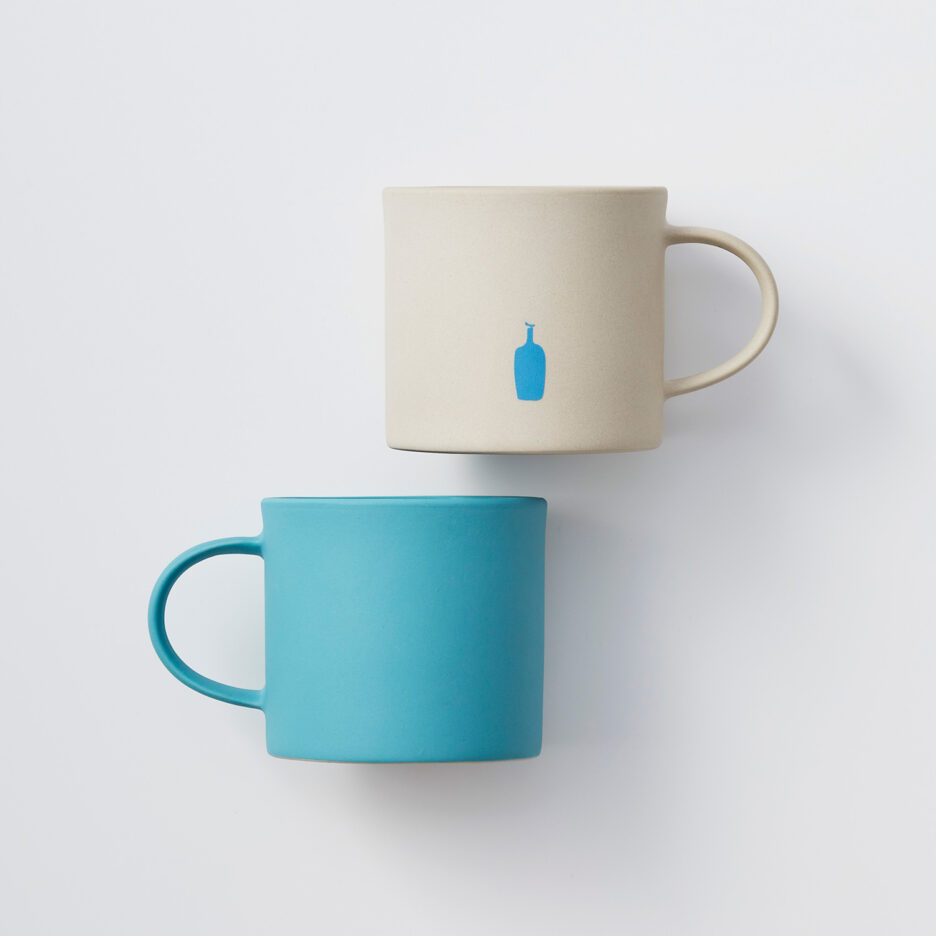 BLUE BOTTLE COFFEE, which first appeared in the early 2000s in Oakland, California, is credited with revolutionizing the coffee world.
Today, there are more than 100 stores worldwide. In 2015, the first directly managed store outside the U.S. was opened in Kiyosumi Shirakawa Roastery & Cafe in Tokyo, Japan.
And in 2023, a new MUG by BLUE BOTTLE COFFEE will be released from Japan.
* "Kiyosumi-Shirakawa Roastery & Cafe" (at that time) is now "Blue Bottle Coffee Kiyosumi-Shirakawa Flagship Cafe." The name has been changed.
---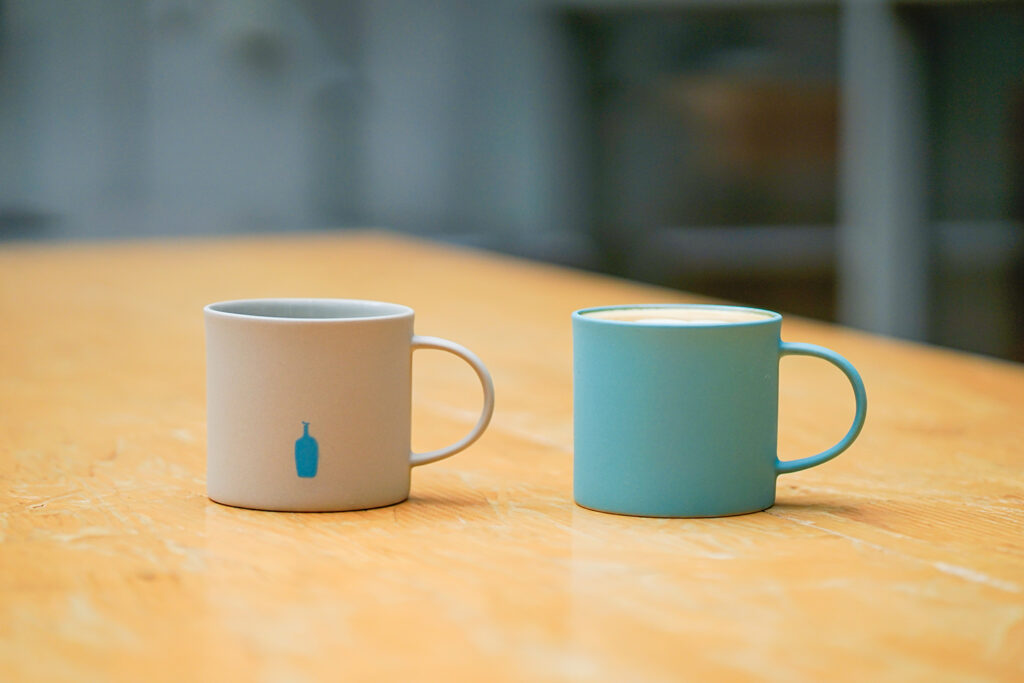 MOHEIM STORY
Takeuchi
What was it that led you to offer MOHEIM the opportunity to develop the new BLUE BOTTLE COFFEE original mug?
Busato
Originally, as BLUE BOTTLE COFFEE JAPAN, we have always been looking for a new mug. Currently, we are selling our signature model "Kiyosumi Mug," and while using it as a benchmark, we wondered if there were any other mugs. And the mug we would like to have is one with a "simple design," which is also our BLUE BOTTLE COFFEE's design style, as well as being "easy to use" and "making coffee taste good…". It is a simple thing, but despite the fact that there are many mugs in the world, we could not find one that fit the bill.
Typically, with our recipe, we brew and serve drip coffee in a 320 ml capacity. If the mug is too small, the amount we can put in is too small, and if it's too big, it's too heavy… It's really difficult to find a mug that is just the right size.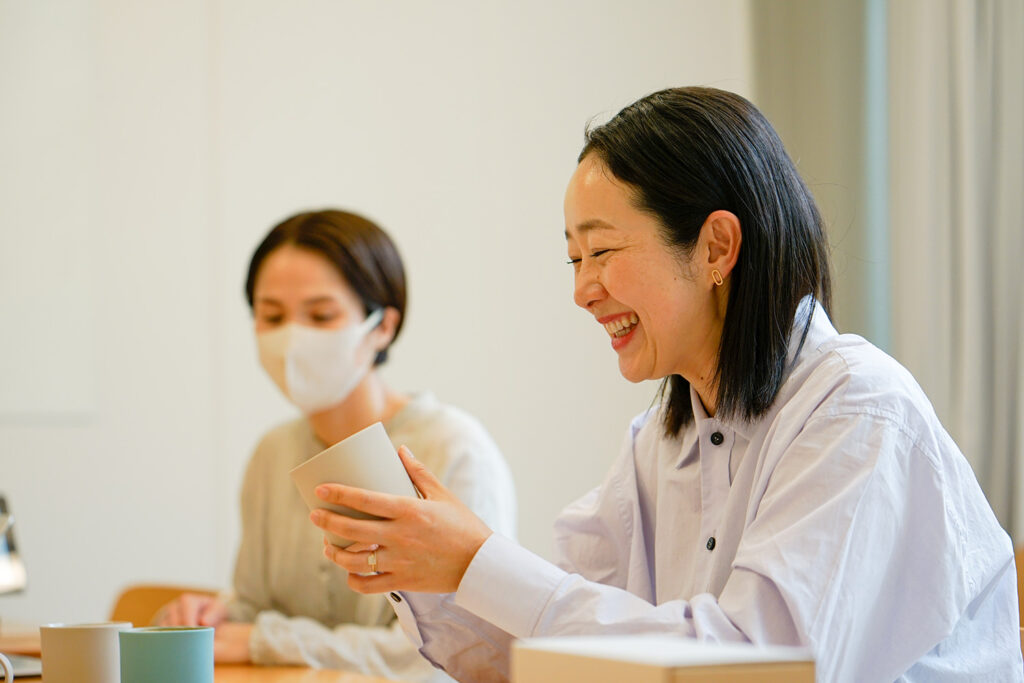 But one day, I saw a MOHEIM MUG at a trade show. Despite the rustic simplicity of its design, I felt that it had a complete world view and was a good fit for BLUE BOTTLE COFFEE. And naturally, the image of coffee being poured into it immediately popped up to my mind. I also imagined the BLUE BOTTLE COFFEE logo placed on the MUG, and at that moment, I felt that our logo would fit well without interfering with the mug's design and ambience.
Takeuchi
Can you tell us a little more about what was the deciding factor in your decision to actually proceed with development at STONEWARE MUG?
Busato
The original mugs currently sold at BLUE BOTTLE COFFEE will have a glossy finish. But I thought that the gray, blue, and white of BLUE BOTTLE COFFEE's brand colors would fit perfectly with the matte texture of STONEWARE. And my prediction came true!
Actually, in the early stages of consideration, we wanted to maximize the bare-bones feel of the MUG. So, we thought it would be fine without the BLUE BOTTLE COFFEE logo on the side of the body. However, based on feedback from within the company and the group as a whole, we decided to create a type with the logo as well. When we added the logo, it turned out very nice!
Takeuchi
2 types of MUGs are available. The gray model has the blue logo on the side, and the blue model has the logo on the bottom instead of the side.
Busato
we "dared" to put the logo on the bottom of the blue model. People can see the logo on the bottom when you drink coffee. It is an interesting aspect from a design point of view.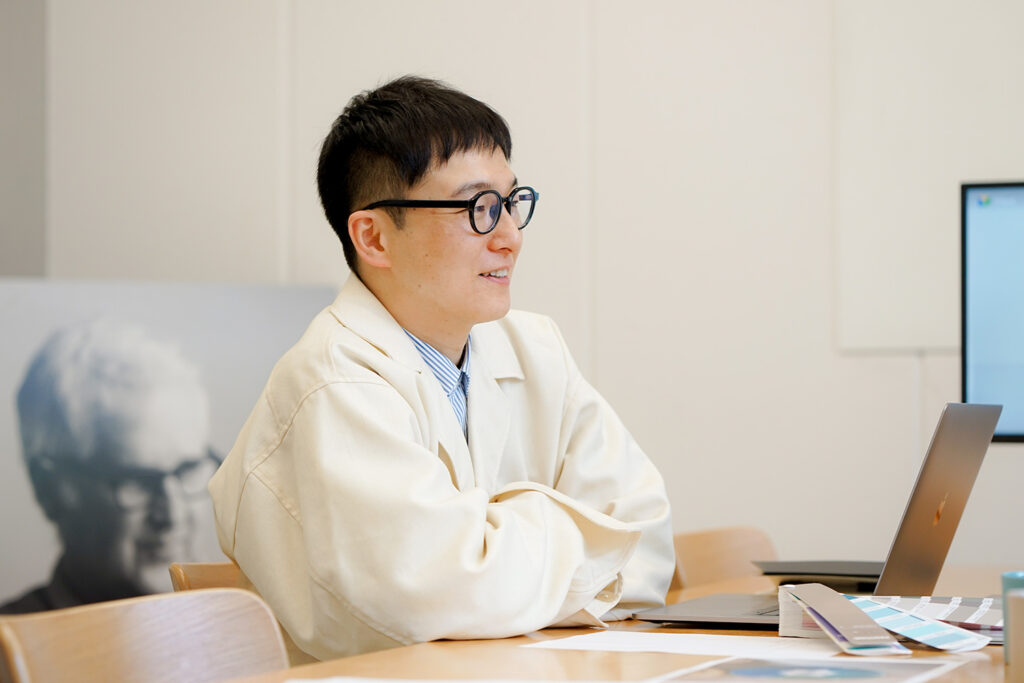 Takeuchi
The matte texture, the rustic and simple design were the reasons that BLUE BOTTLE COFFEE gave for their choice. This is something that we were really particular about and made no compromises to achieve with STONEWARE. We were also particular about the fact that it is reasonably priced and can be used on a daily basis. So, we are very happy that you liked these points.
Busato
I heard that you couldn't find a place in Japan that could manufacture it, so you went to Vietnam to find a factory that could make it. I could tell that you really put a lot of effort into making it.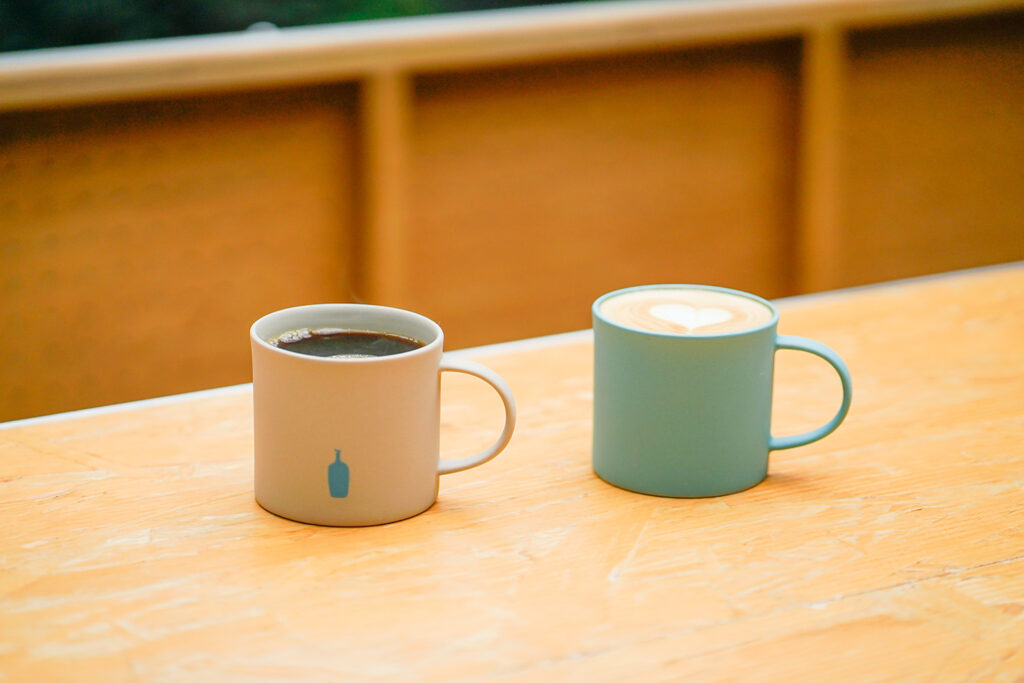 Takeuchi
In fact, when you see coffee and cafe latte being poured like this, you can see that this exquisite, calm, slightly dull color and texture really goes well with milky lattes and coffee.
Busato
Thank you for working with the factory over and over again to make sure the color of the body matched the color we specified as closely as possible.
Takeuchi
The STONE MUG was to be created based on an existing design, but the BLUE BOTTLE COFFEE brand color was very important. We never compromise on anything, so we visited the site and gave instructions. We were also very particular about the logo.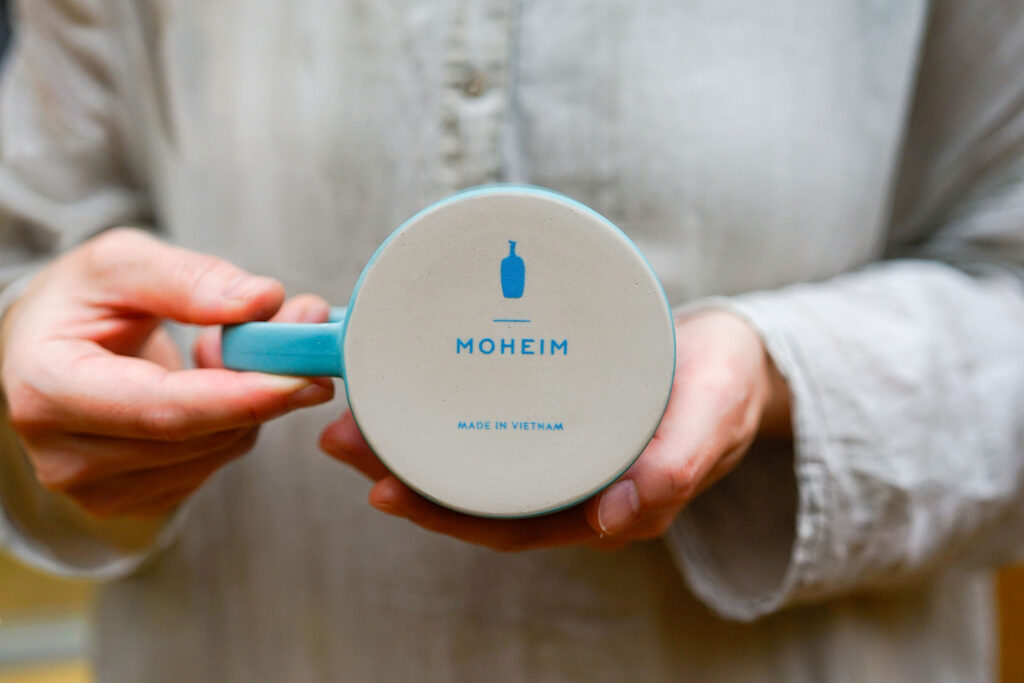 Busato
Yes, the size and position of the logo. However, rather than the presence of the logo, I focused on the overall atmosphere and appearance of the mug.
Takeuchi
Regarding the gray model, I feel that the blue color and texture of the logo really match and blend well with the rustic texture of this unglazed stoneware. It is not too assertive, but elegant, just the perfect balance.
The blue model has a blue logo on the bottom. Actually, one of the features of this mug is its flat bottom. I am happy that they were able to design the logo to look good on this flat surface. It is just the right size and just the right balance of design that makes you want to show it to those around you when you drink, and also makes people in front of you think it is cute when they see it.
Busato
We worked on the placement and size of the letters and logo on the bottom, even down to the font size and placement of each line, while also considering how not to violate the original MUG design.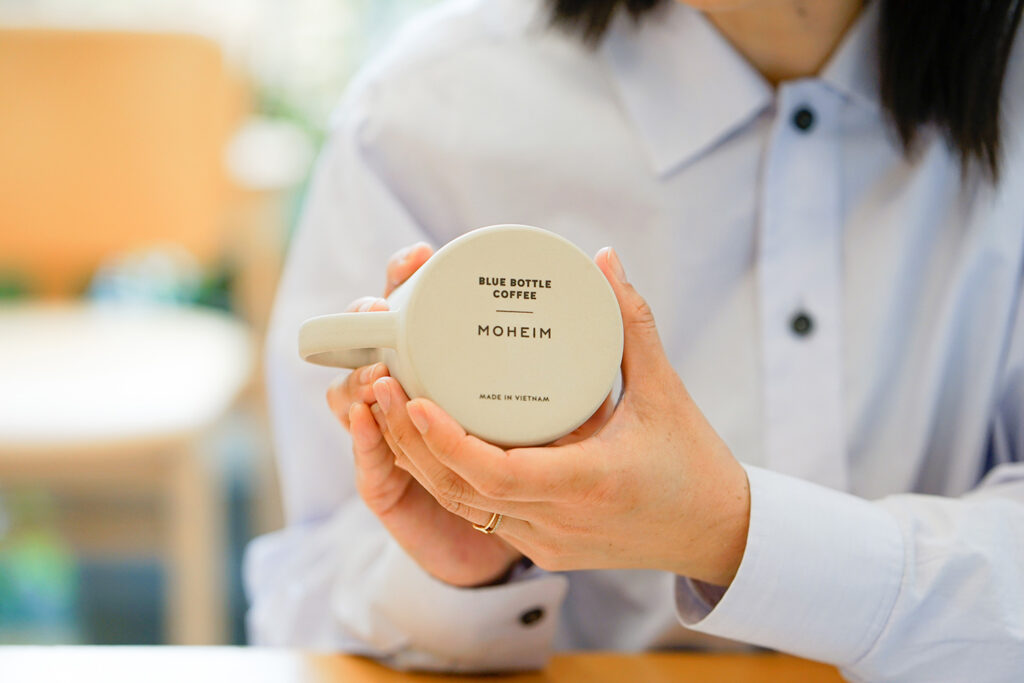 Takeuchi
How would you like people to use this STONE MUG?
Busato
We make it so that you can enjoy your coffee at home, after all, I want people to use it at home. Also, I think it would make a great gift for anyone who wants to give it as a present. Even if you don't know BLUE BOTTLE COFFEE, I think you will like the atmosphere that this mug creates. So, I would be happy if you choose this mug not only for yourself but also as a gift.
I think this cup can be used more and more for daily use without hesitation, due to its price range and the ease with which it can be washed. Therefore, I hope that the cups will become a part of people's daily lives and fit into the lives of those who purchase them.
Takeuchi
That's right. I also hope that many people will use this STONE MUG soon, because it looks so nice covered with BLUE BOTTLE COFFEE's colors and logo.
Busato
We already use it every day too, and it's really very good. When every barista sees this MUG, then they say, "This is so cute!" Everyone loves it!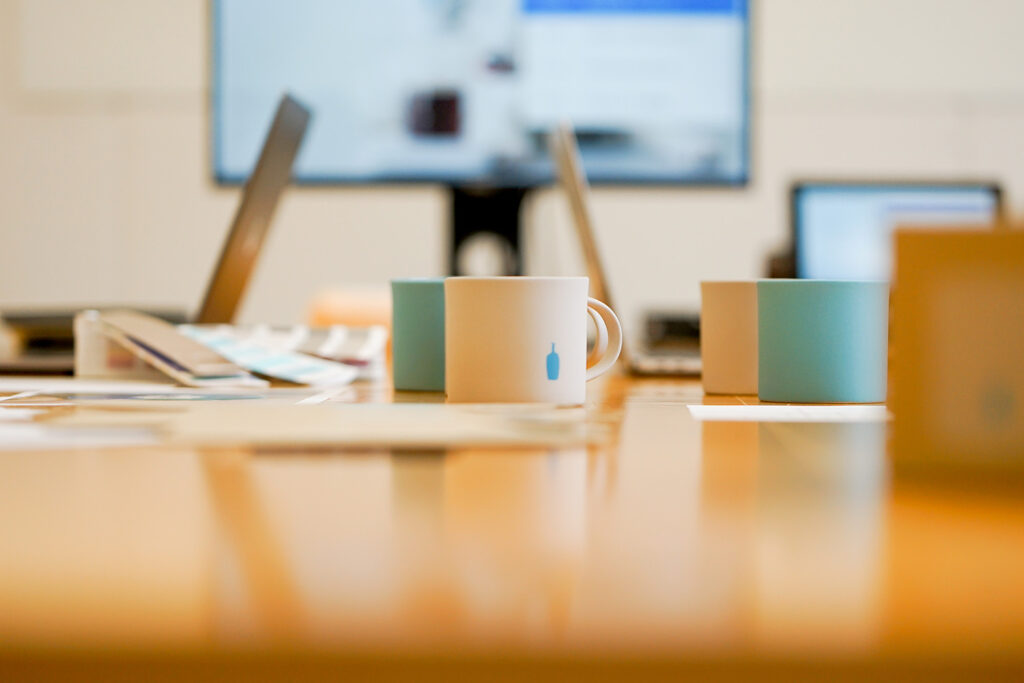 Takeuchi
What do you find attractive about the STONE MUG after using it?
Busato
I usually have a set of six pieces of tableware, including mugs, in case I have guests. I would like to have six of these STONE MUGs for my home use. I think the advantage of this MUG is that it can be used for any purpose, not to mention coffee. I hope that people who are going to use this product will try one for themselves first, get to know how easy it is to use, and then gradually increase the number of this MUGs they have.
Takeuchi
It would be great if people could use it in various situations.
Busato
And if we can expand this concept for the MUG to other items in the future. I think it would make customers happy as well.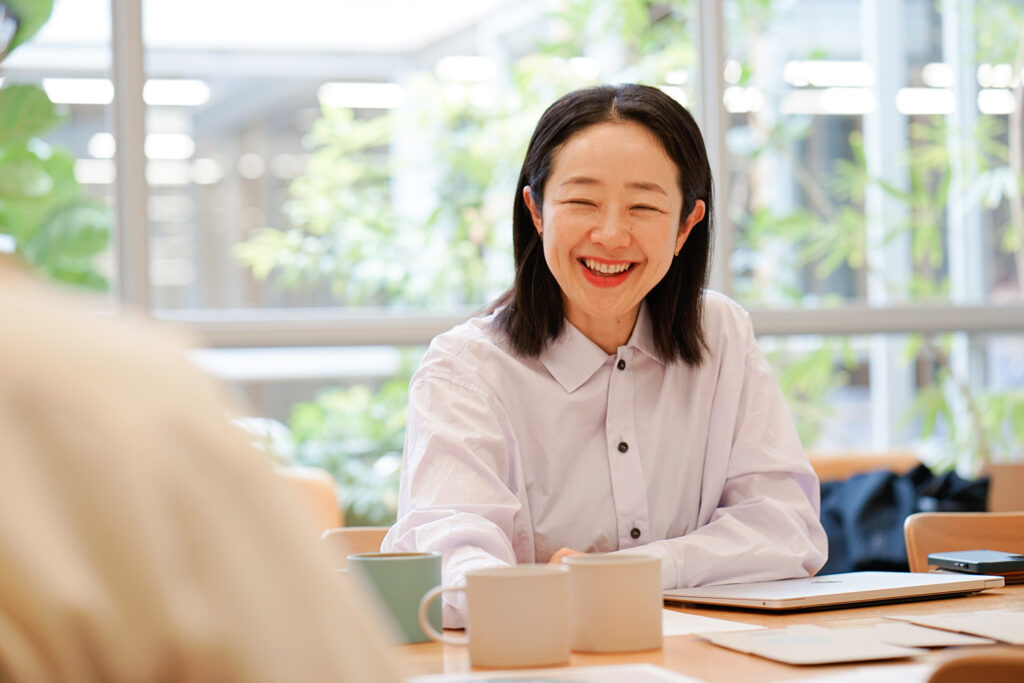 Takeuchi
I feel that our collaboration has been very fulfilling.
Busato
We were very grateful that MOHEIM understood the value of BLUE BOTTLE COFFEE and were willing to work together with us in a sincere effort to create products that fulfill our needs.
Takeuchi
We are grateful to you for accepting the philosophy of STONEWARE that MOHEIM has pursued, and for the fact that this collaboration was realized. We are truly honored to be able to add new value to STONEWARE and to be able to communicate it to people around the world.
Busato
BLUE BOTTLE COFFEE does not only want to stay within the scope of a coffee shop, but to establish itself as a lifestyle brand, and we hope to continue working with MOHEIM to create "things that fit into our daily lives."
---
* STONE MUG is sold only at BLUE BOTTLE COFFEE café and their online store only.
Not available at MOHEIM.
* Not available at HUMAN MADE 1928 Cafe by Blue Bottle Coffee and HUMAN MADE Cafe by Blue Bottle Coffee.
---
About BLUE BOTTLE COFFEE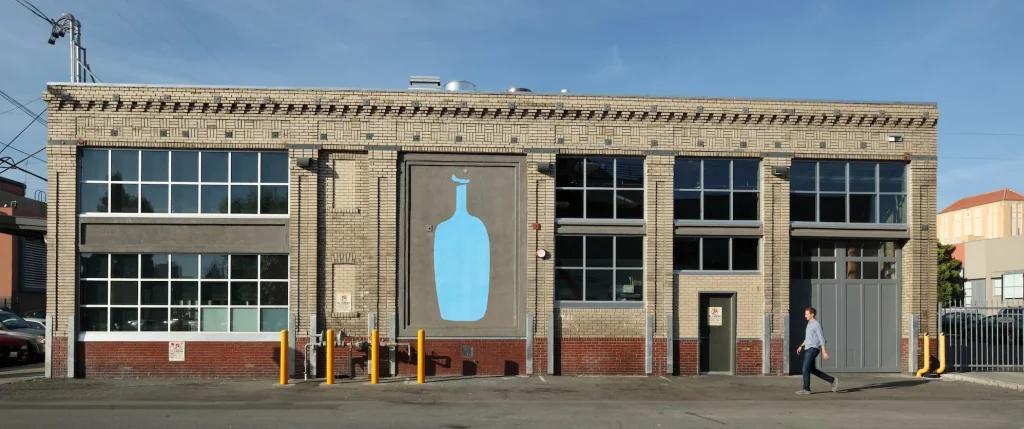 In 2002, in Oakland, California, U.S.A.,BLUE BOTTLE COFFEE was started by James Freeman, a freelance musician and coffee enthusiast.
"Only freshly roasted coffee beans should be sold to customers, to be consumed during the peak period when flavors are at their best. The beans should also be of the highest quality and only the most delicious and responsibly sourced." With this pledge, there are now more than 100 BLUE BOTTLE COFFEE stores around the world.
Green bean buyers examine seasonal coffee and purchase the most delicious coffee beans from around the world. The coffee beans are then roasted in the company's own roastery using recipes specific to each type of coffee bean in order to bring out the best of the coffee bean's unique characteristics.
After roasting, only fresh beans are delivered from the roastery to the café so that customers can enjoy coffee within the peak flavor period (the period when the taste is most pronounced) as measured for each bean. Experienced baristas then carefully brew each cup of coffee to deliver a rich flavor.
https://store.bluebottlecoffee.jp/
https://www.instagram.com/bluebottlejapan/
BLUE BOTTLE COFFEE Kiyosumi-Shirakawa Flagship Cafe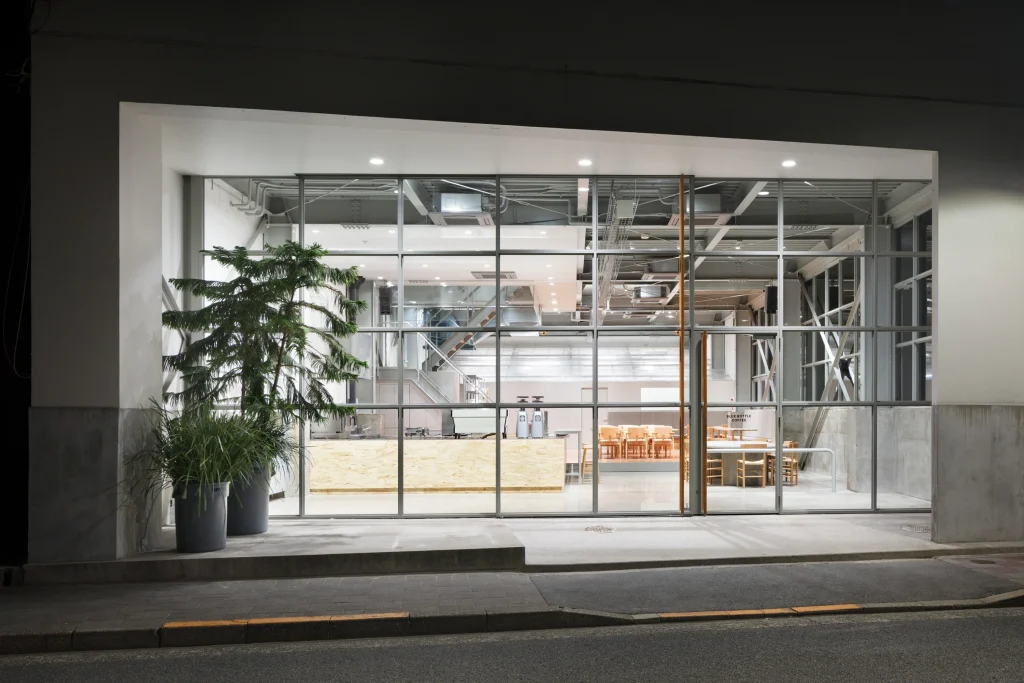 BLUE BOTTLE COFFEE Kiyosumi-Shirakawa Flagship Cafe offers a wide range of coffees, mainly single origin coffees that are at their peak of flavor during the season. Among the coffees that BLUE BOTTLE COFFEE is known for "SEED TO CUP," which means that each process, from the origin of the beans to the extraction process, is carefully selected.
You can enjoy it in a relaxed atmosphere with a special food menu that can only be found here.
The training lab attached to the coffee shop offers classes on a variety of coffee-related topics, making it a space that both coffee novices and experts will want to return to again and again.