minä perhonen × MOHEIM - Part 1
minä perhonen's textile designs decorate MOHEIM items.

minä perhonen, founded by designer Akira Minagawa, is a brand that offers not only textiles and fashion, but also a variety of items for interior design and other aspects of daily life. SWING BIN "choucho" is the first collaboration item with MOHEIM.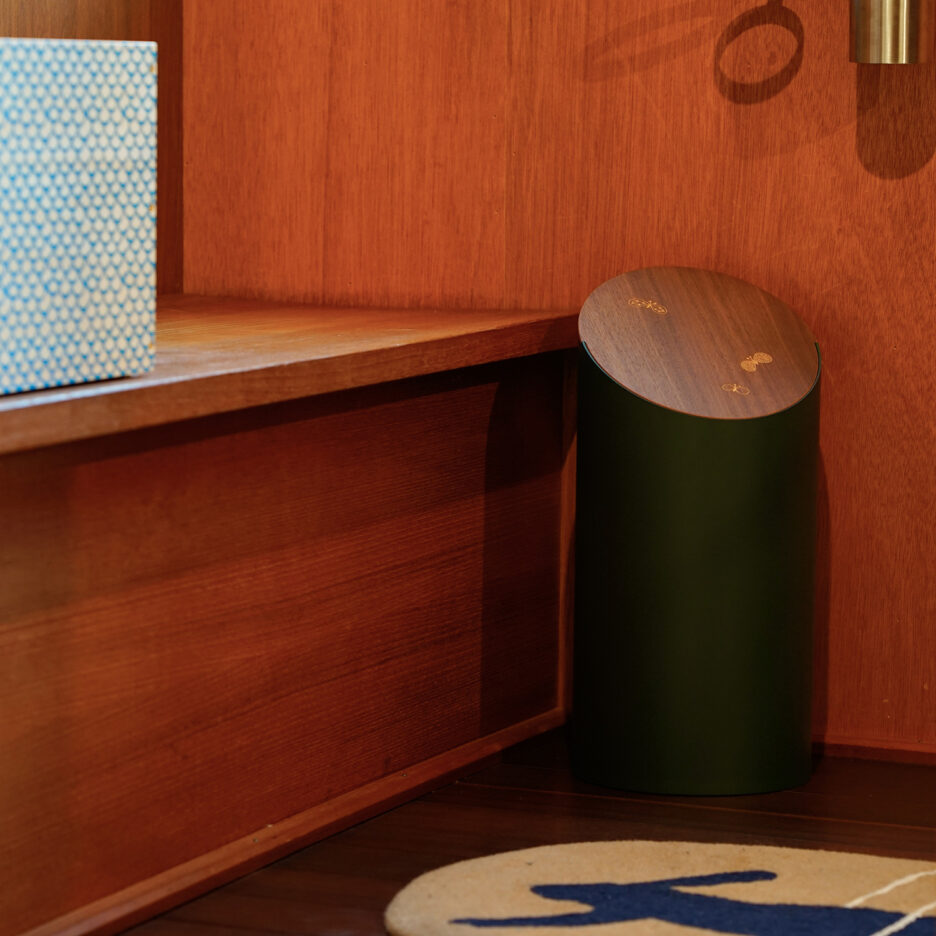 minä perhonen's textile designs decorate MOHEIM items.
minä perhonen, founded by designer Akira Minagawa, is a brand that offers not only textiles and fashion, but also a variety of items for interior design and other aspects of daily life. SWING BIN "choucho" is the first collaboration item with MOHEIM.
---
MOHEIM STORY
Takeuchi
We were approached by minä perhonen to install SWING BIN in the guest rooms of the "HatagoVison minä perhonen room by vison direction" in Vison, Mie Prefecture. Could you tell us about how you came to know about MOHEIM?
Tanaka
The first time I saw SWING BIN was at Spiral Market in Aoyama. When we design various new stores, one of the last items I always have trouble styling is a trash can. I've looked for them in various stores, but I never seem to find the right one….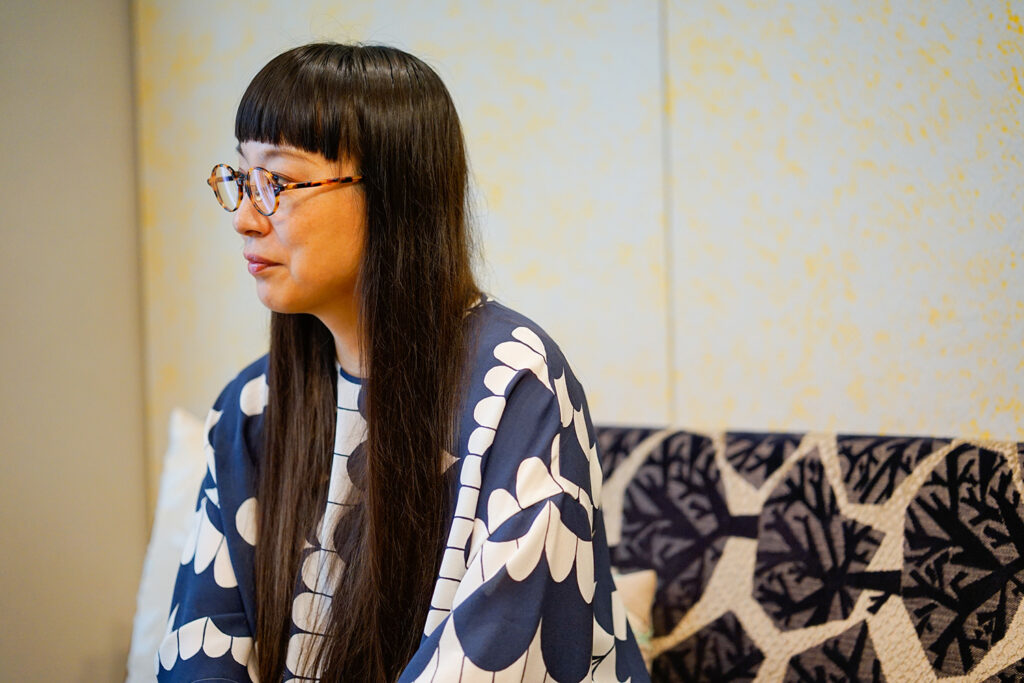 But when I saw the SWING BIN, it hit me. It is a very simple mechanism with a beautiful shape and no visible waste inside. It also has a PET sheet inside that can hold a plastic bag properly. I was so excited to try it that I bought one for my own home.
Takeuchi
First of all, thank you for using it in your home. Were there any other factors that made you choose SWING BIN for your guest room at "Hatago Vison"?
Tanaka
When I was thinking about the color scheme of the room's interior, it was also significant that I felt all the MOHEIM items, not only the SWING BIN but also the STONEWARE MUG and other items, were in a color scheme that matched the minä perhonen room. Now that I look at it again, both SWING BIN and LINDEN BOX go well with the minä perhonen clothes and other items lined up here (laughs).
Takeuchi
I am very happy to hear you say that. When I was a student…that is, more than 20 years ago, before the name minä perhonen, I was very shocked when I learned of the existence of "minä" and I have been a fan ever since. I think this has influenced some of my own designs, and it may also be reflected in MOHEIM's items.
Tanaka
You have been paying attention to us for quite some time.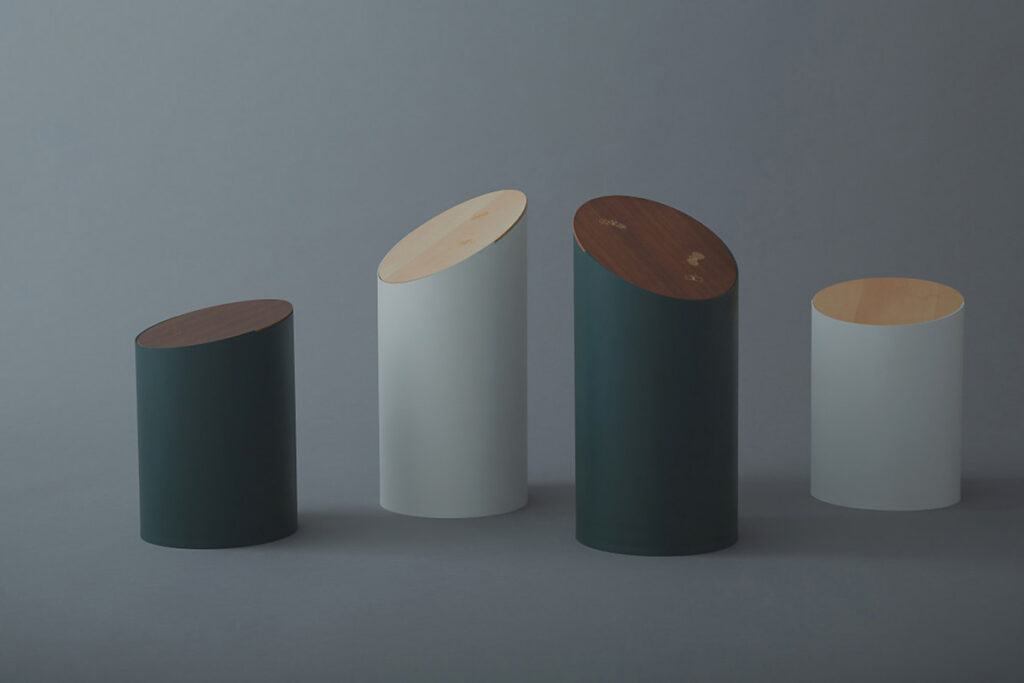 photograph: Comuro Nonoka
Takeuchi
The standard model SWING BIN was initially considered for the guest rooms of "Hatago Vison," but I took the liberty of proposing a special minä perhonen model.
Tanaka
When we think about collaborations, we sometimes get caught up in the feeling that we can't call it a "collaboration" if we just put our design on another brand's item that has already been designed. However, when we talked to the people at MOHEIM, we found that we had an affinity and commonality with minä perhonen. And above all, we felt that the movement of the SWING BIN lid as it opens and closes is like the fluttering of a butterfly's wings. So we were very happy to see "choucho" on the lid of the SWING BIN.
Trash cans are often seen as a bit of a negative item, but when they are in a room with a clean look, it is nice to see them as an object of art. And having a motif that we designed there resulted in a very natural flow that we could accept.
Takeuchi
By the way, which type of SWING BIN do you use at home?
Tanaka
It's the white S size. While I was using it, I thought that I would like to have a medium size as well… and then I received the proposal for the collaboration. However, the "choucho" model is not yet available to our staff, including myself. It's so popular that we can't keep up with the supply….
Takeuchi
I see…. It pains me to say that you still can't get it, but I'm glad to hear that it's so popular. By the way, has the collaboration model met your expectations?
Tanaka
Of course, as you can imagine! By the way, the "choucho"s on the lid of the SWING BIN have different designs: three on one side and two on the other. The reason for this is that I thought it would be nice to be able to change the design depending on the mood, instead of having a front and back. I also like to see "choucho" on the back side when I remove the lid. The lid is always removed for cleaning. I deliberately thought about it from a "mother's" point of view.
Takeuchi
And in 2022, green was added to the color selection, and in 2023, we had the release of the S size.
Tanaka
In terms of size, we wanted to have it both options from the start. We also wanted to increase the color variations to suit rooms with subdued colors. We imagined the situations in which customers would use the product, and increased the number of models to be developed.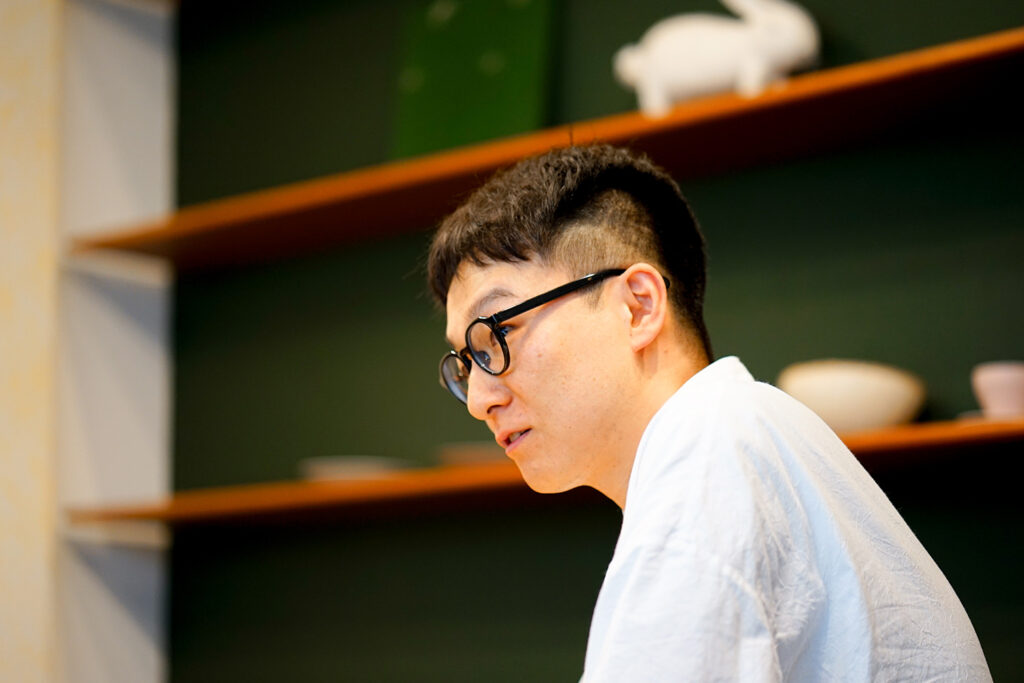 Continued to "minä perhonen x MOHEIM – Part 2"
---

* The minä perhonen and MOHEIM collaboration model is ONLY available at some minä perhonen stores and online store. NOT available at MOHEIM shop.
---
About minä perhonen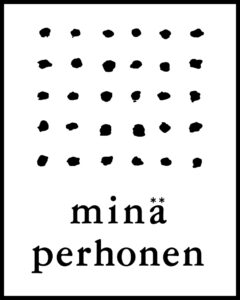 The brand was launched by designer Akira Minagawa. "minä" started as a fashion brand in 1995. In 2003, the name was changed to "minä perhonen." It is not only about fashion, but also about interior design and many other things that are part of our daily lives.
The brand name "minä" means "I" and "perhonen" means "butterfly." During the designer's travels in Finland, the name was given in Finnish in sympathy with Finland's lifestyle and culture.
At the heart of minä perhonen's craftsmanship is the design from materials, mainly original textiles. Textiles have been a part of the brand since its inception. In-house designers continue to create designs by hand.
---
Keiko Tanaka
designer / CEO
Joined the company in 2002 as a textile designer. Continues to present bold compositions and delicately expressed designs created by hand.
Tanaka's textiles appear in the collection of Cooper Hewitt, Smithsonian Design Museum, New York. In addition to providing designs for various projects, collaborations and interiors, she actively visits domestic and international production centers to create products that make the most of the individuality of each production center and manufacturer. In order to contribute to society and add to the happiness of individuals through her designs, she continues to expand the brand's realm of activities as the second runner, succeeding Minagawa.
https://www.mina-perhonen.jp/
https://www.instagram.com/mina_perhonen.jp/