LINDEN BOX
LINDEN BOX has a sophisticated appearance even though it is a simple rectangular box.
The box with natural and tranquil colorings and the brass screws shown on the sides is of course useful as storage. Moreover, it can also be used as a shelf, a tray, or a side table in combination with its special lid.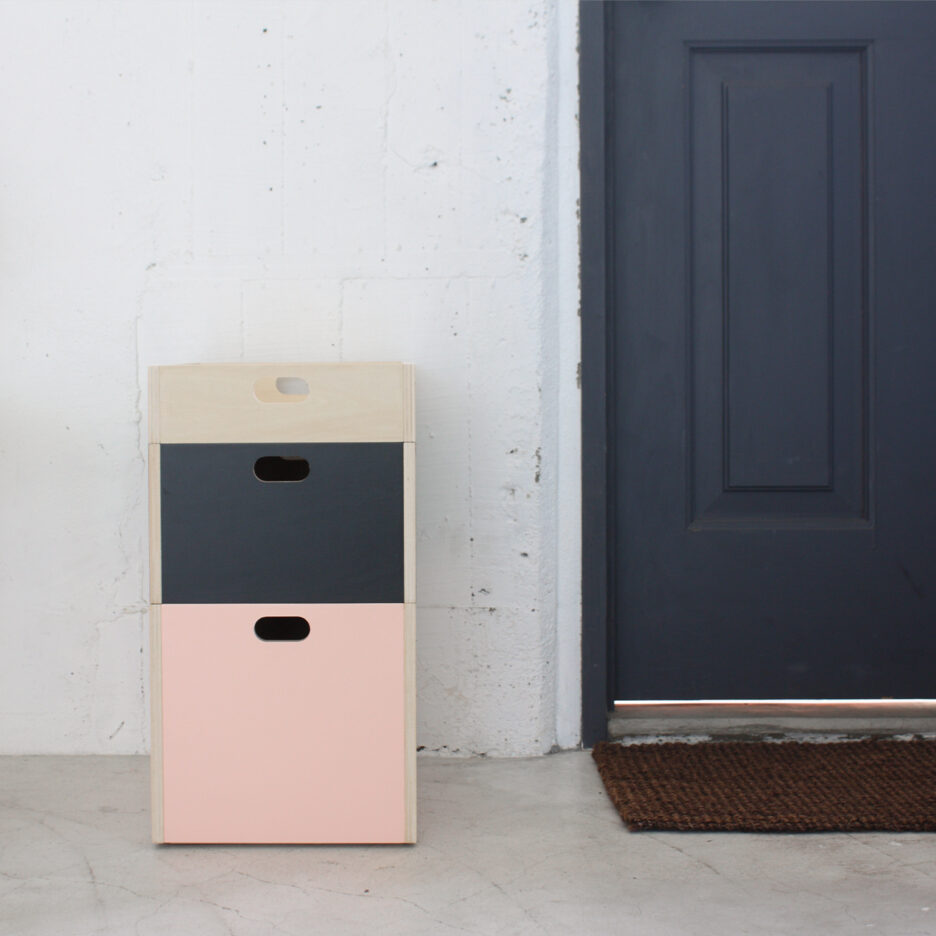 Where and how do I use it?
This high-quality box with gentle coloring and brass screws can be used in various ways – not only for storage, but also as a shelf, a tray, or a side table.
The simple but picture-perfect box will make you want to display it as a part of your interior.
---
PRODUCT STORY Vol.6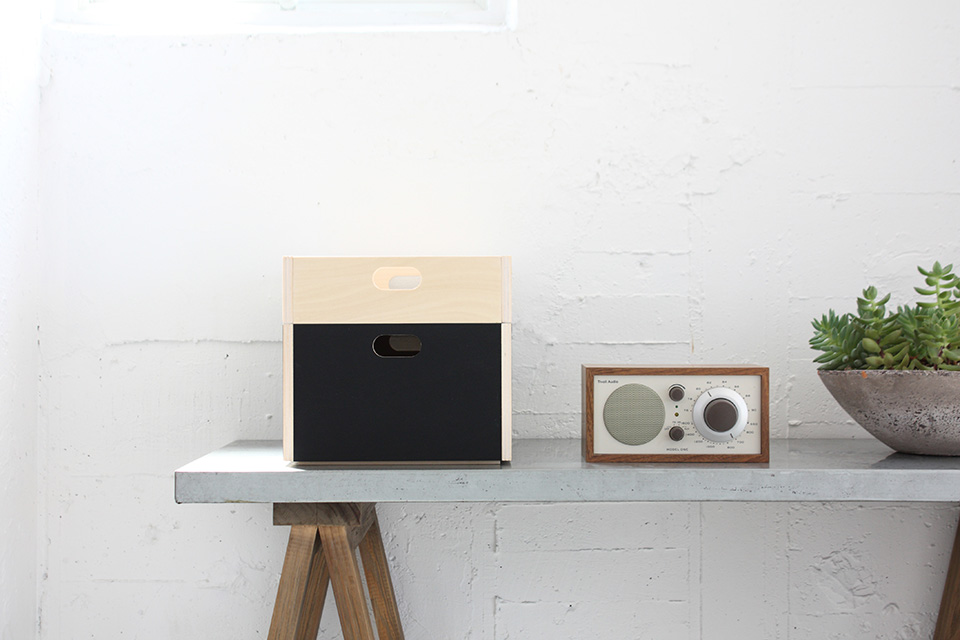 — Where did you get the idea to make LINDEN BOX and add it to the MOHEIM collection?
It started with my desire. I just wanted to have simple and useful wooden storage boxes. There are many kinds of storage boxes in our market. But I had trouble finding a simple one, without any logos, patterns, illustrations, and so on.
There is also a great variety of plastic boxes, but they are meant to be "hidden" somewhere because of their texture and appearance.
So, I wanted to create a storage box which looks good as an interior item and in which people can feel the warmth of the wood.
— Please tell us some of the particular points about its design.
First of all, the gentle colors are an important point, and this is common to all products of MOHEIM. I chose 5 colors for LINDEN BOX – pink and gray with a smoky nuance and a pastel tone, orthodox white and deep navy, and natural (clear) which allows you to feel the warmth of the wood.
Second, I selected brass as the material for the screws which appear on the sides of the boxes. This is also something I was really particular about. Simple sectional boxes are usually assembled with screws from the side. Some products use small stickers as accessories to cover and hide the screw heads. But my idea was to make the best use of the screw heads as a part of design. The color and texture of brass give the screw heads an accent of refined design, as opposed to something which people basically don't want to show because it looks clumsy.
Another thing was displaying the cut end (the cross section of the board) on the front side. I wanted to adopt this as a part of the design.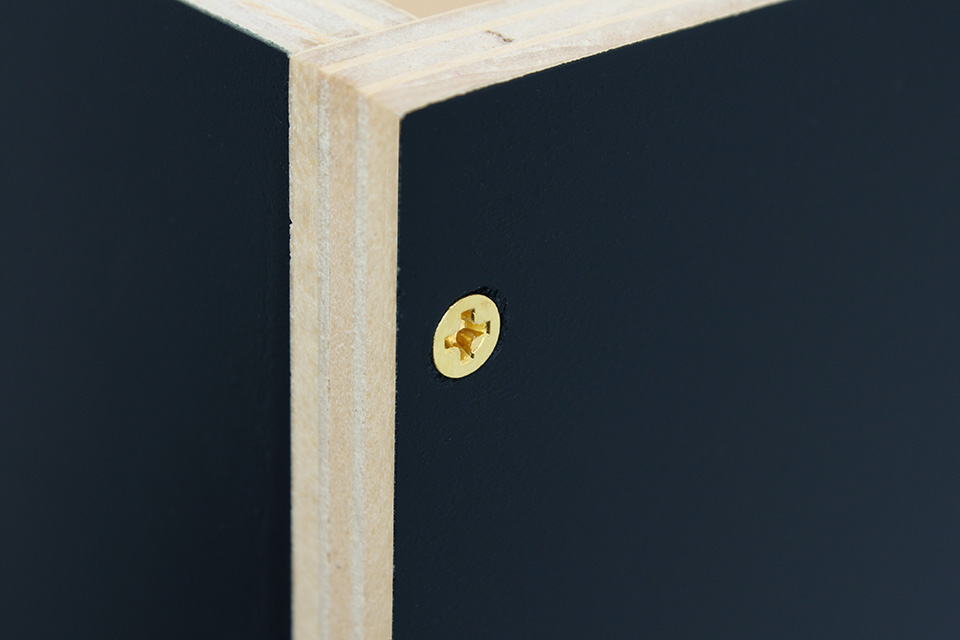 — Does the idea of showing the cut end come from the selected materials?
When you see the cut end of this board, you discover the beautiful striped pattern on it. That is because we use plywood made of all linden (basswood), for both the surface and core. This kind of plywood is of fine quality, easy to process, and resists warping. General plywood core is mostly made of lauan. When you compare lauan plywood with linden plywood, the appearance and texture is totally different.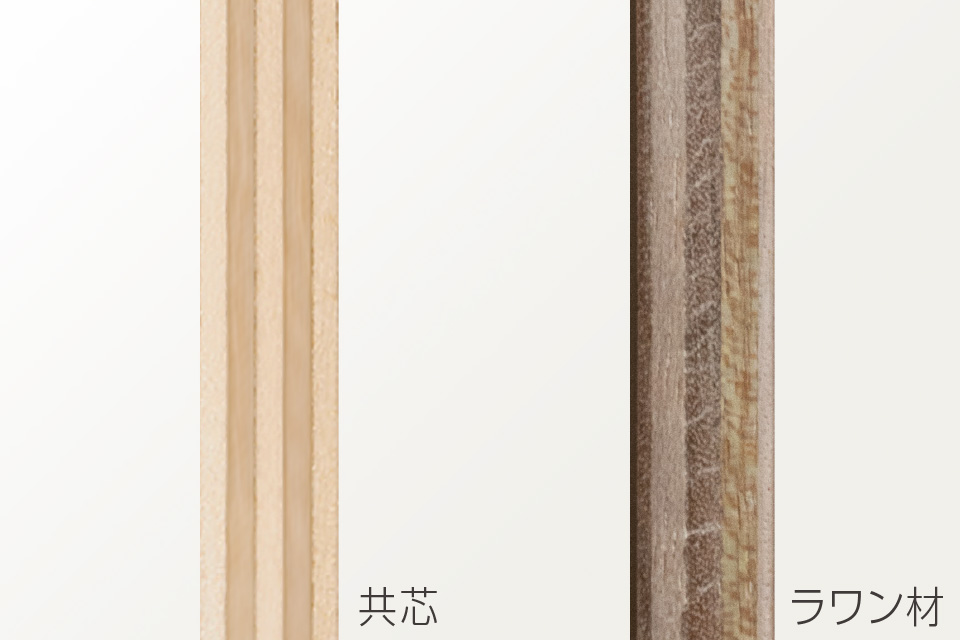 Moreover, another essential element is the handiwork of craftspeople in Kawada, an area in Fukui Prefecture which is famous for Kawada lacquering and traditional Echizen Lacquerware handicrafts. The beauty of the board's cross section is emphasized by their work because they carefully manufacture and finish the surface. With cheap lauan plywood you could never realize this beautiful appearance. Actually, one of the biggest reasons behind the creation of LINDEN BOX was the encounter between linden plywood and techniques of craftspeople of Kawada which could make the plywood surface smooth. We wanted people to enjoy the touch and striped pattern on the cross section, therefore we left this part without any coating (or paint).
In fact, most of the visitors touch the cut end when they see LINDEN BOX. We think that the smooth surface makes them want to touch it and feel the warmth and comfortableness of the wood. This wooden texture, the color, and the brass screws allow LINDEN BOX to fit into any interior, and most of all, become a storage box which "you want to show."
— How about its functional aspects?
It is of course used as a box with an open top, but it turns into a side table if you put the lid on it. That is why it can be used around a sofa in the living room or around a desk in the working space. It can become a chest if you stack some of them and place them alongside a wall. The small size box is compact and shallow, so it is nice to use as a tray.
That means, with these various combinations, it can be matched with your needs. We hope LINDEN BOX can give you joy when thinking about "how to use it."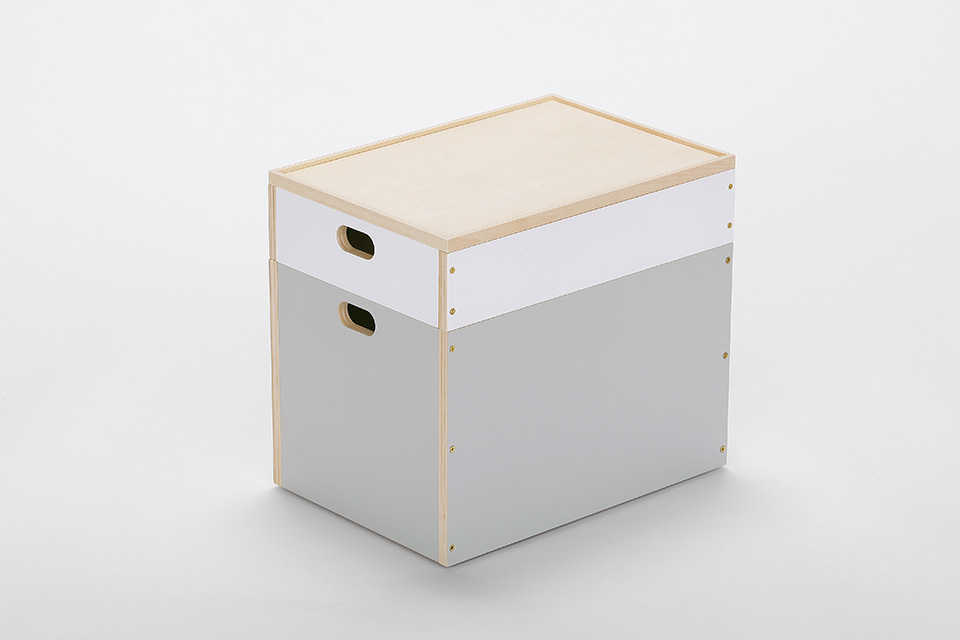 — Did you have any difficulties during its development?
One good point of the "natural" colored LINDEN BOX is that it brings out the gentle wood grain and the color characteristics of linden plywood. We think it makes you feel the warmth of the wood. However, the clear paint on the surface also brings out the original natural tone of the material which could not be seen before coating. This is actually the proof of natural material, but the color of the plywood changes to yellowish or reddish. We do not want to combine them randomly, and so we managed to make a set of the parts for a box with same tones in as much as possible.
— Is there any other specific points of LINDEN BOX?
What we particularly wanted to realize was a knock-down system. This is an indispensable point when we consider its delivery and inventory control at stores. A compact package becomes an especially big advantage when shipping outside of Japan.
As a matter of fact, foreign shops which consider dealing in LINDEN BOX are so happy to find out that this product is a knock-down.
Another characteristic of the box is the pilot holes for the screws. We repeatedly examined and considered of the depth and diameter of the holes. The biggest reason was that we wanted people who are not used to DIY to be able to assemble the box easily. Also, these pilot holes help us to avoid damaging the brass screws, which are softer than steel screws, when we drive them into the wood.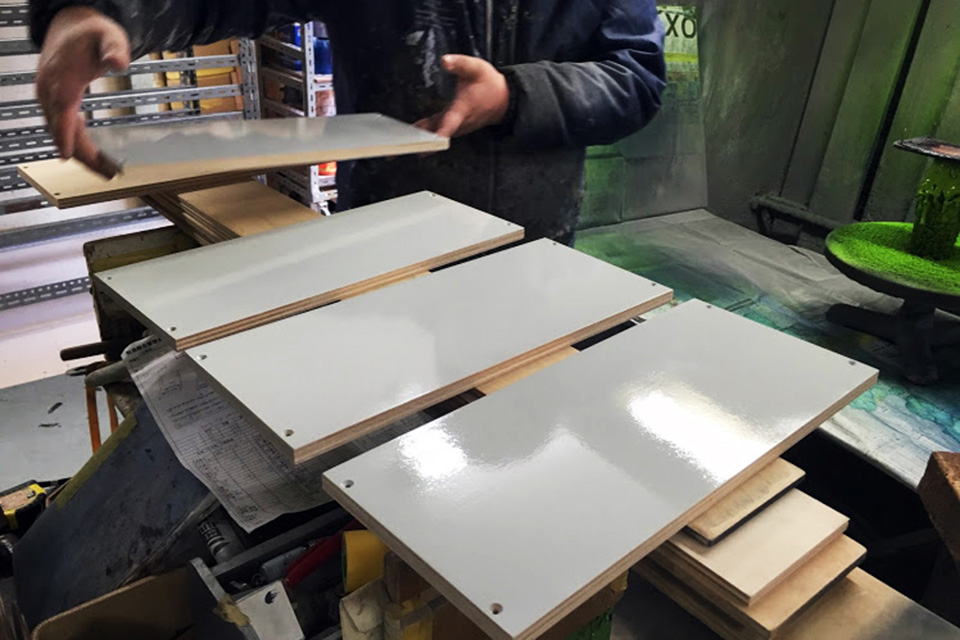 — Please tell us about the design of the package.
It is normal for knocked-down furniture to be packed in ordinary boxes.
However, I wanted to represent "the joy of bringing the boxes home" through the design of the package. That is why I put a handle on the box and make it look like a briefcase. Don't you feel excited or thrilled when you assemble furniture or do DIY?
So, I came up with the design of this package because I wanted people to feel the enjoyment of the process – buying LINDEN BOX, which you fell in love with, and bringing it home while carrying it in your hand.
Moreover, the package can be opened wide just like a bag and the parts of the box can be taken out easily. We guess that this would also lift your mood right before assembling it at home.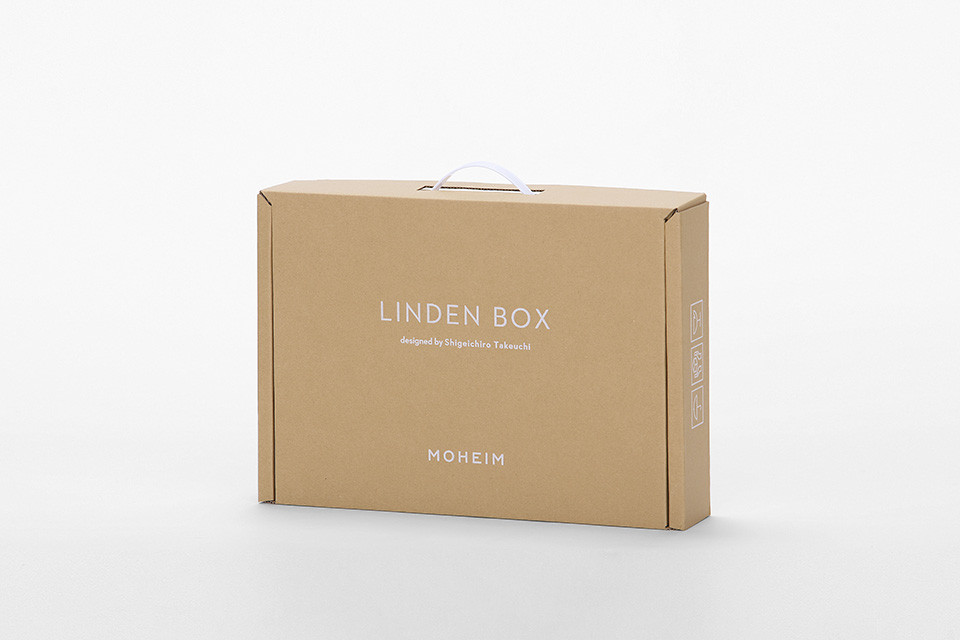 — As a designer, do you have any suggestions about what kind of space and purpose you would like the LINDEN BOX to be used for?
I would like people to experience the joy of stacking the varied, colorful LINDEN BOX and the delight of showing them off. Of course, it would be cool to coordinate with only a single color. But hundreds of combinations can be made with LINDEN BOX, which comes in 3 sizes and 5 colors, so we think you can enjoy "playing" with various boxes just like you played with toy building blocks when you were a kid. The 5 colors for LINDEN BOX are carefully selected in order to represent unity as an entire collection even if you combine all 5 colors together. That means you can choose your favorite colors freely, and combined together you will still have a stylish set. Please color your space and interior with LINDEN BOX as you like.