SILHOUETTE
A flower vase with a soft imporession that appears as if wrapped in side gathers… Actually, this is a plastic bottle covered with a knit fabric.
Just by covering a PET bottle that would otherwise be thrown away, SILHOUETTE transforms it into a vase.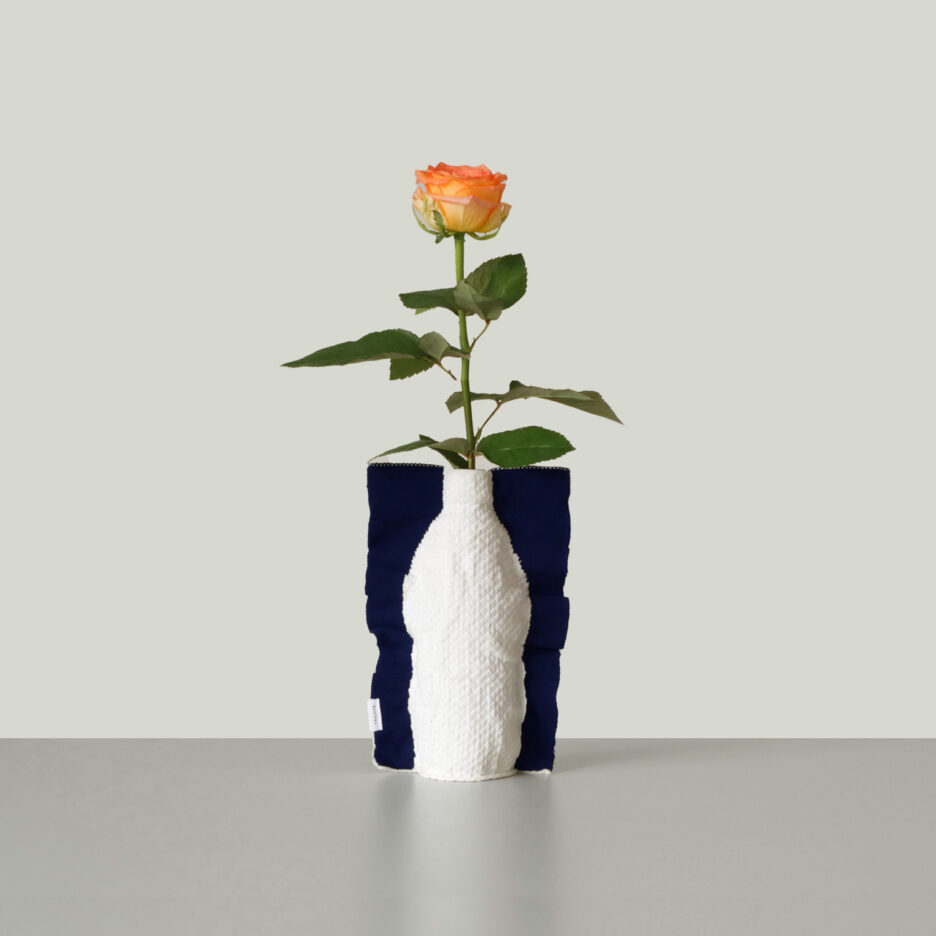 Easily and sustainably– enjoy your every day life with flowers. An eye-catching bicolored flat knit fabric that transforms a plastic bottle into a vase by simply covering it. The three-dimensional silhouette and playful side gathers were achieved by incorporating delicate high technology and will brighten up your space.
---
PRODUCT STORY Vol.7
— First, please tell us about the collaboration with TRICOTÉ *.
I was fortunate enough to meet the staff at TRICOTÉ, which uses its own advanced technology to create a variety of knitted items. From socks, stoles, and sweaters to cushion covers and bags, TRICOTÉ uses knitwear, which is both stretchy and strong, to create items with a highlydesigned quality. I was really glad to hear that we could collaborate with such a wonderful brand.
— It seems unlikely that something you could put over a plastic bottle could transform it into a vase… What was the inspiration for creating SILHOUETTE?
When we decided to collaborate with TRICOTÉ, they showed us a variety of products and samples.Among them, I was most attracted to a sample of a cover for a bottle.
At first glance, I thought, "This could also be used for vases," and at the same time, I had an idea that it could be used for PET bottles as well, not just empty glass bottles. The knit material is very nice and unique, so I felt that I could create something special that is neither luxurious nor commonplaceby using this fabric.
In addition, the fact that it can be made into a flat pack was also a very big advantage to me. I wanted to make an item that people would not only use at home, but also feel free to give as a gift to someone else.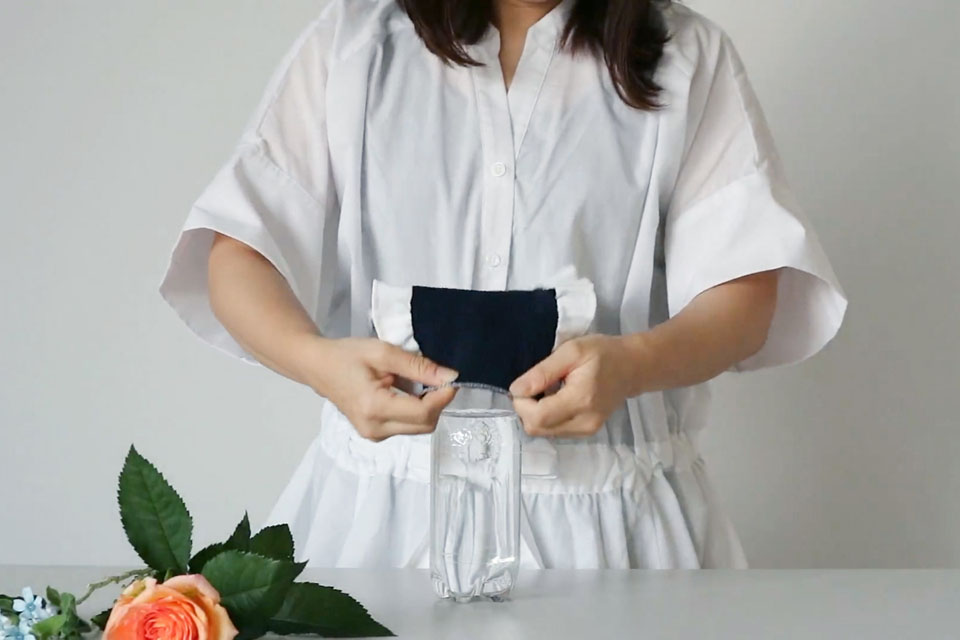 — Words such as "sustainability," "SDGs," and so on are often discussed these days, but were these products developed with such visions in mind? Please tell us about the intentions behind the product from this perspective.
Plastic bottles are very familiar to us. Most of us buy and consume plastic beverage bottles on a daily basis, and once the drinks are consumed, the empty containers are thrown away as garbage. Naturally, the material is recycled, but I felt that if I could reincarnate it at home without throwing it away…
I thought it would be great if I could use the power of design to reuse something that would normally be thrown away in a wonderful way.
— I heard that the materials used for this knit fabrics are not used for regular knits or textiles.
This is a knit material created with TRICOTÉ's unique technology, using a special rubber yarn. Maybe you can imagine what it looks like when I explain… it is made of a special elastic yarn, which is like that often used for the waistbands of clothing.
When you hear the word "knit," you probably think of the soft and fluffy texture of items made of wool, etc. However, the material used for SILHOUETTE is a unique material that has firmness and elasticity at the same time. Moreover, due to the characteristics of rubber, it is not only elastic, but also maintains its strength.
What are some of the other points that demonstrate the high level knitting skills used?
It consists of two contrasting parts: the part that covers the bottle is hollow and the side part is gathered…you might think it is two different knits sewn together. But in fact, this is knitted as one piece.
This is made possible by the extremely high technology unique to TRICOTÉ. I thought it would be very interesting to be able to change not only the color but also the expression of a single textile. And when I heard that TRICOTÉ's technology could make this possible, I really wanted to incorporate this technique into a MOHEIM item.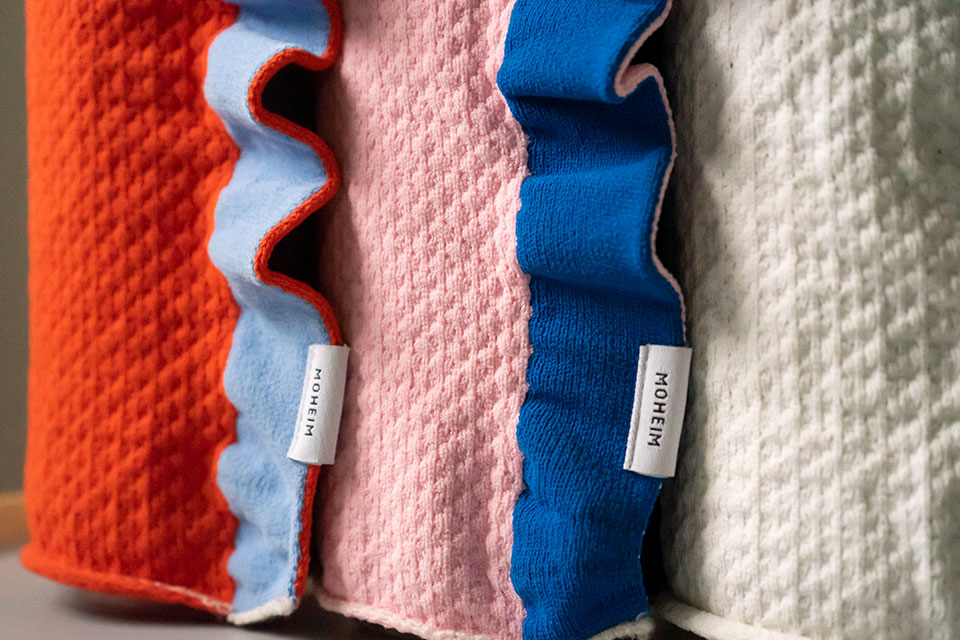 — What are the main points of the design?
As I mentioned earlier, in its design I wanted to use the advanced TRICOTÉ technique, where two different knitting techniques are finished as one knit. The part that becomes a silhouette (over the bottle) has a totally different appearance than the gathered side, with its small puffy texture.
Another key point was the impressive side gathers with their playful squished look. I really needed these gathers to make the silhouette of the plastic bottle stand out.
However, if it was just knitted in the usual way, the top and bottom edges would inevitably warp and pull inward. So at first, the shape reminded me of a sloping shoulder when viewed from the front. That form was different from what I had imagined, so I improved the gathering part so that it was sloping slightly upward. As a result, it ended up with a design that reminded me of a ribbon or butterfly, and became a charming feature of SILHOUETTE.
— Why did you choose the name "SILHOUETTE"? What is the meaning behind it?
Because it is bicolored, the silhouette of the bottle's shape…that is, the silhouette of what this item will "reincarnate" is visible even as it lays flat. This silhouette makes the viewer think, "Oh, I can just put it over a plastic bottle!" This silhouette immediately reminds the viewer of how to use the product.
Knit materials are basically "flat." Furthermore, the packaging of SILHOUETTE is vacuum packed, which further emphasizes its flatness. I came up with this name because I wanted people to feel the series of events that occur when a flat knit is transformed into a three-dimensional form by covering something that would normally be thrown away, and the silhouette emerges.
— While most of the other MOHEIM items have gentle pale tones, all three of the SILHOUETTE items colors are vivid. What is the reason for this?
Since the SILHOUETTE is used as a tool for arranging flowers, we wanted to make it not only stand out, but also be "conspicuous" or "highlighted" from other items. Considering its use, I thought it would be better to use colors that would accent the interior.
In addition, since I decided to make it bicolor, I wanted to use colors that complement each other. By combining completely different colors, I intended to create a more attractive presence by making the differences between the colors clearer.
— The packaging is also vacuum-packed instead of simply packaging it normally. Were you particular about this as well?
As I mentioned earlier, one of the reasons I wanted to emphasize is that vacuum packing makes the flatness of knit material more flattening.
This package is not bulky to carry around at all. It can easily fit into a small space in your bag, making it an easy souvenir to take away. Moreover, the vacuum-packaged product does not bend or become crumpled. I think it is smart to give it as a gift without having to worry about it.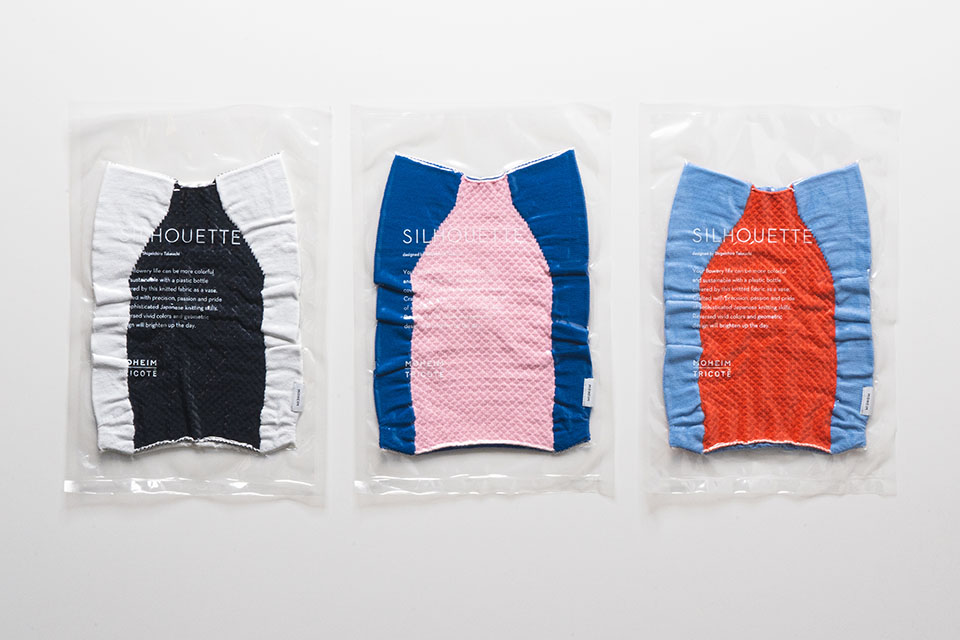 — Are there any other advantages unique to SILHOUETTE?
Basically, most flower vases are made of ceramic or glass. In homes with small babies, children, or pets, many people might give up on placing flowers in vases that could be broken if dropped.Since SILHOUETTE is a knitted product, even if it is knocked over or dropped, it will not break, so there is no need to worry about injury.
I think this is a good point. And also, ordinary vases can be bulky when not in use, but with SILHOUETTE's flat knit, you can simply store it in a drawer and it won't take up much space. Such a feature, which is not usually noticed, must be an advantage.
— Lastly, as a designer, if you have any recommendations on how to use SILHOUETTE, please suggest them.
Most ceramic and glass vases are smooth, cold, and hard, but the knit material of SILHOUETTE gives it a warm feeling. Moreover, the side gathers are sure to give you a sense of softness and unique cuteness. Just inserting your favorite flowers from the flower store will make your room brighter and more gorgeous than usual. You can also try putting in flowering plants that you see on your walk. Even simple natural plants and flowers that you see in your daily life will become something special and enhance your space when placed in SILHOUETTE.