TROLLEY
TROLLEY, designed by Keiji Ahizawa, a practical but well-designed kitchen wagon with a graceful presence, is the most popular furniture item in the MOHEIM collection.
It is very functional even with its simple but beautiful design, because both the upper and lower boards can be removed and used as trays.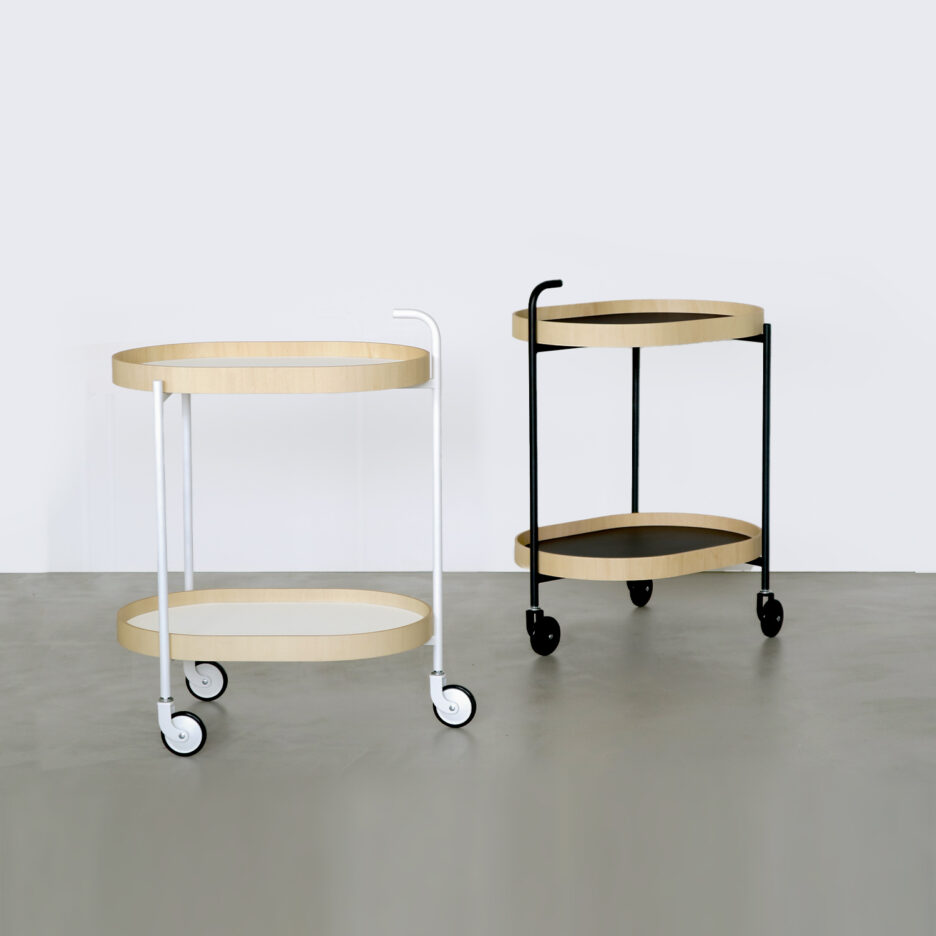 Simple, yet graceful…
A kitchen wagon called TROLLEY, with its unique design,
gives you a light feeling and makes your space beautiful.
The line of flow in every day's life would be also changed smart.
---
PRODUCT STORY Vol.5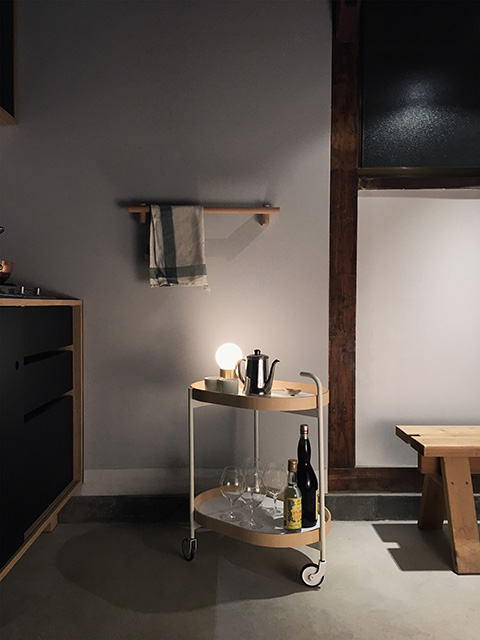 — Please tell us what you thought when MOHEIM offered you the chance to design TROLLEY?
I have been establishing trust with Shigeichiro Takeuchi, who is a creative director of MOHEIM, since 2010. That year we both exhibited our designs at SaloneSatellite in Milan, and it was a good chance for us to get to know each other and we have been like-minded since then.
Takeuchi understands and respects my design philosophy, my style, and how I approach development as "practical, minimal, and coming from a pure viewpoint of manufacturing."
When I got the offer from MOHEIM, I also understood that he desired to collaborate together with a designer who could share the philosophy and expand the perspective of the brand. Also, the collaboration with MOHEIM was really attractive for me because the brand clearly reflected Takeuchi's vision. So I was happy to accept his offer and get started on our collaboration together.
— What were the circumstances under which you designed the kitchen wagon?
It was a request from MOHEIM.
There are not so many kitchen wagons with nice design, and which can be used for various occasions. Also, other important considerations were a moderate price and a knock-down structure in order to make the package compact. The offer for me was to design a new kitchen wagon which fulfilled all these requests.
Both the timing of our collaboration together to create a new thing, and the addition of a kitchen wagon to the lineup, matched perfectly.
— What are the characteristics of TROLLEY from your point of view?
Most of Japanese residential spaces are designed to be much more compact compared to Western ones. So, I aimed to design an under-sized wagon which is easy to handle in a compact little apartment. Also, I wanted to make an attractive wagon, which can be used conveniently in various places – not only in the kitchen and dining room.
Its roundish form gives it a gentle impression, at the same time, the trays are capable of carrying many things.
The black and white color variation allows it to fit into various kinds of spaces.
— How about its functional aspect?
It has a light feel to it and is user-friendly because its 3-legged structure allows for a wider space between the legs. As a result, this structure makes this wagon easy to use and functional.
Moreover, one of the most unique points is both the upper and lower boards can be removed and used as trays. This is also the most functional characteristic which I would really like to emphasize.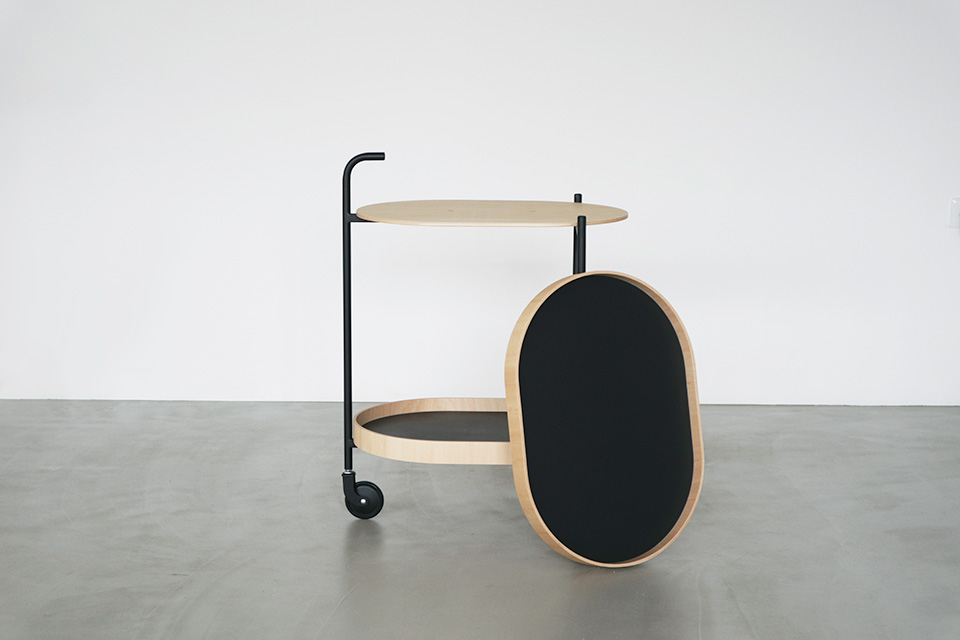 — How did you come up with the idea of detaching the boards for use as trays?
When we use a kitchen wagon, we usually put things on the wagon and carry them to a dining room or a desk. So I thought that it would be useful if each of the boards could be removed.
— Are there any particular points concerning the tray?
It has elegant atmosphere as a tray. You can see such characteristics through its thin edge and careful craftsmanship.
It was truly fortunate that we could adopt the traditional technique of Echizen Lacquerware for making this tray.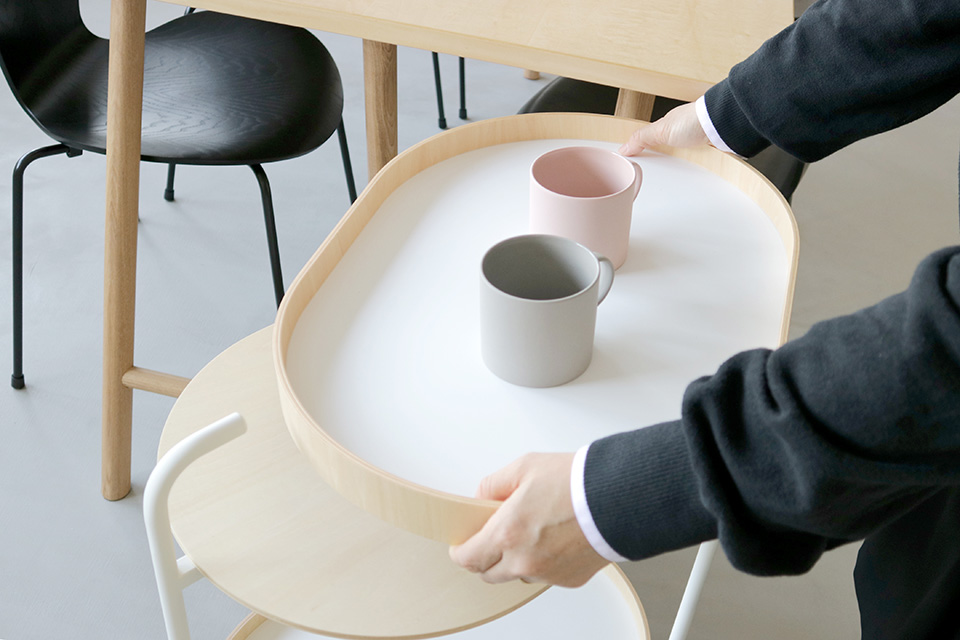 — Any other specific points in relation to the design of TROLLY?
I was pretty particular about the finishing (coating).
Most of the items which are used in/around kitchen and dining are shiny and slick because they are meant to be maintained easily. But when I designed TROLLEY, I hoped to make its finishing matte and harmonized, and enhance the texture of the material.
— Did you have any difficulties, or go through any trial-and-error process during the development?
I took pretty long time to finalize the design of the handle. I wanted to make the handle easy to use as well as leave an iconic impression with its form and direction.
Also, we had to consider the safety. Most importantly, the handle's tip points inward in order not to hit children in the face or eyes. Furthermore, I probed into the detail of it, the form, the curve, and so on, in order to retain its characteristic design as much as possible while prioritizing that it be easy to hold.
With regard to the casters, we chose the most minimal ones which move smoothly and match the color of the frame. It also took so long time to find the best one.
— Were there any difficulties other than design during the development?
It was important to develop TROLLY as a knock-down from the beginning. This was because it would be advantageous for its shipment and inventory control if the package was a compact size.
However, the realization of the knock-down structure for a kitchen wagon wasn't easy at all. The beautiful appearance of structure doesn't always equate with a reasonable production process. Therefore, we worked on trial production and studied it over and over and thus it took a long time to come up with the ideal structure.
In retrospect, this was a really big achievement.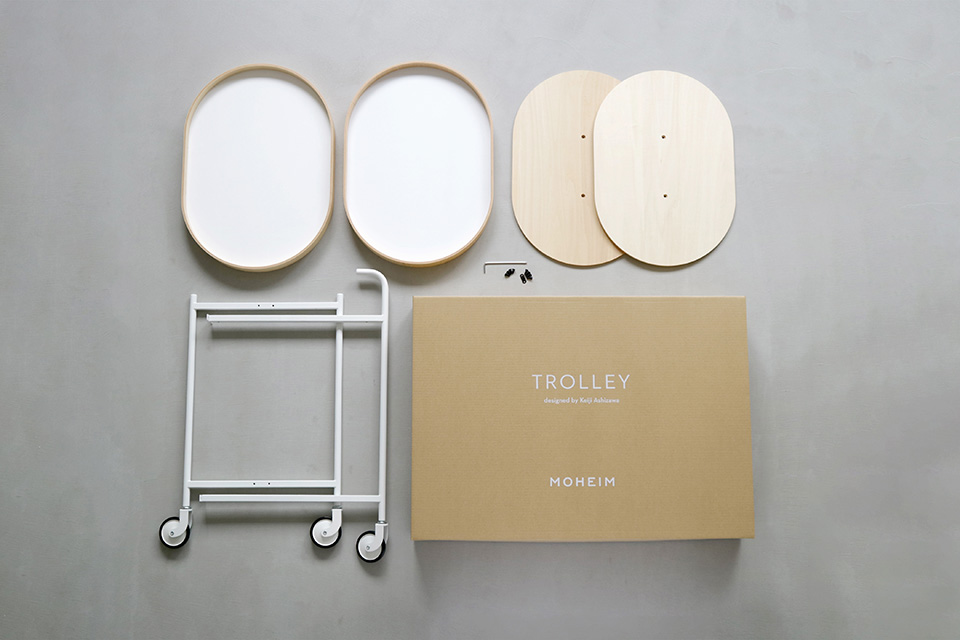 — What would you suggest as ways to use TROLLEY?
TROLLEY is classified in the category of "kitchen wagon," but it can be used for various locations. For example, it fits perfectly when you place it besides a sofa, and comes in handy around a desk. Actually, it can also be used for serving coffee or tea at meeting at the office.
I assume that its usability in any location and its convenience will attract people. It would be great if you could take TROLLEY any place, just like taking your pet along.
— Please tell us about further collaboration with MOHEIM.
The life and the interior with MOHEIM items have a universal good quality.
It is a happy thing for me, as a designer, to be taking part in MOHEIM, which creates long lasting items from small articles to furniture, and I hope we will keep working together.
Right now, we are developing a new item, a stool. From now on, I would like to collaborate with MOHEIM to make other items which can be used with TROLLEY and which exhibit MOHEIM-ism.