BRICK STAND
A simple umbrella stand with five holes on a rounded rectangular body. The design was inspired by Finnish perforated bricks. We focused on sustainability and spent time developing recycled materials.

We interviewed the designer, Mr. Wataru Kumano, about his thoughts on BRICK STAND, which was created through a process of various trials and errors.
An umbrella stand with minimal volume for easy use
Inspired by Finnish bricks with holes in them, BRICK STAND is characterized by its simple appearance and rustic materiality.
It can also be used as a doorstopper at the front door or on the porch. It is composed of 70% recycled materials, as we considered sustainability to be our top priority.
---
PRODUCT STORY Vol.8
—— How did you come up with the idea for the BRICK STAND design?
I had some doubts about the situations in which umbrella stands are used in Japan. The entrance to a Japanese residence is quite small, but large furniture items are often used….I kept thinking, "Is it okay for such an oversized umbrella stand to be used in such a small entrance?" So, I had been thinking about some ideas for a compact umbrella stand for a long time.
Then, when I was in Finland, I saw a brick block with some holes in it that was different from the standard Japanese brick. And at that moment I thought, "Ah! Maybe this is the way to make an umbrella stand."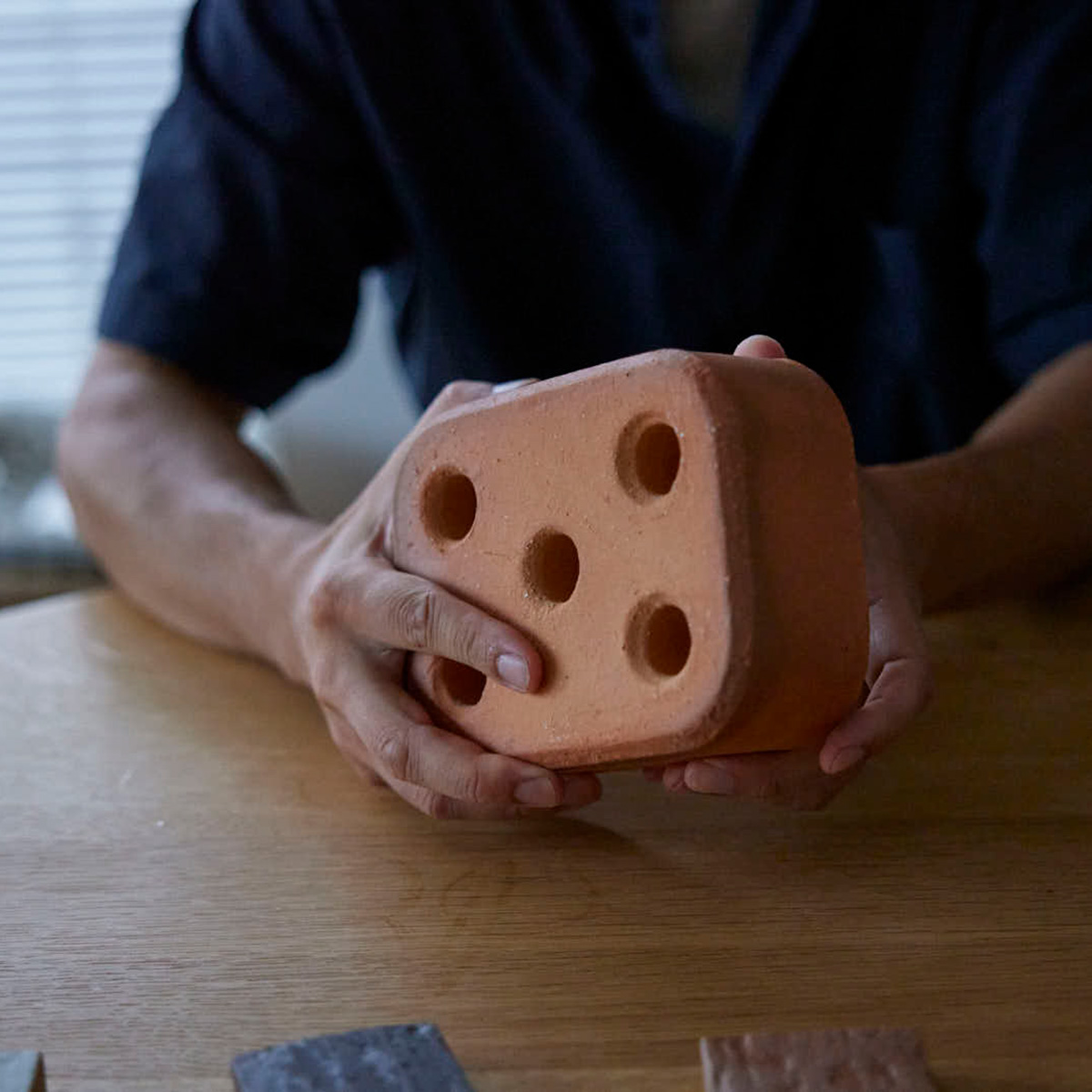 —— You got your inspiration in Finland. Then you incorporated it into MOHEIM's products.
When I saw the perforated bricks, I just thought "this is it." I thought that I could create a product with that kind of feeling, rather than saying "I must do it this way" or "I want to make it that way."
This project began with an offer from MOHEIM to create a simple product that could be easily used at the entrance of one's homes. I thought that a "compact umbrella stand" as a MOHEIM product would be a great fit with the brand concept, so I proposed it.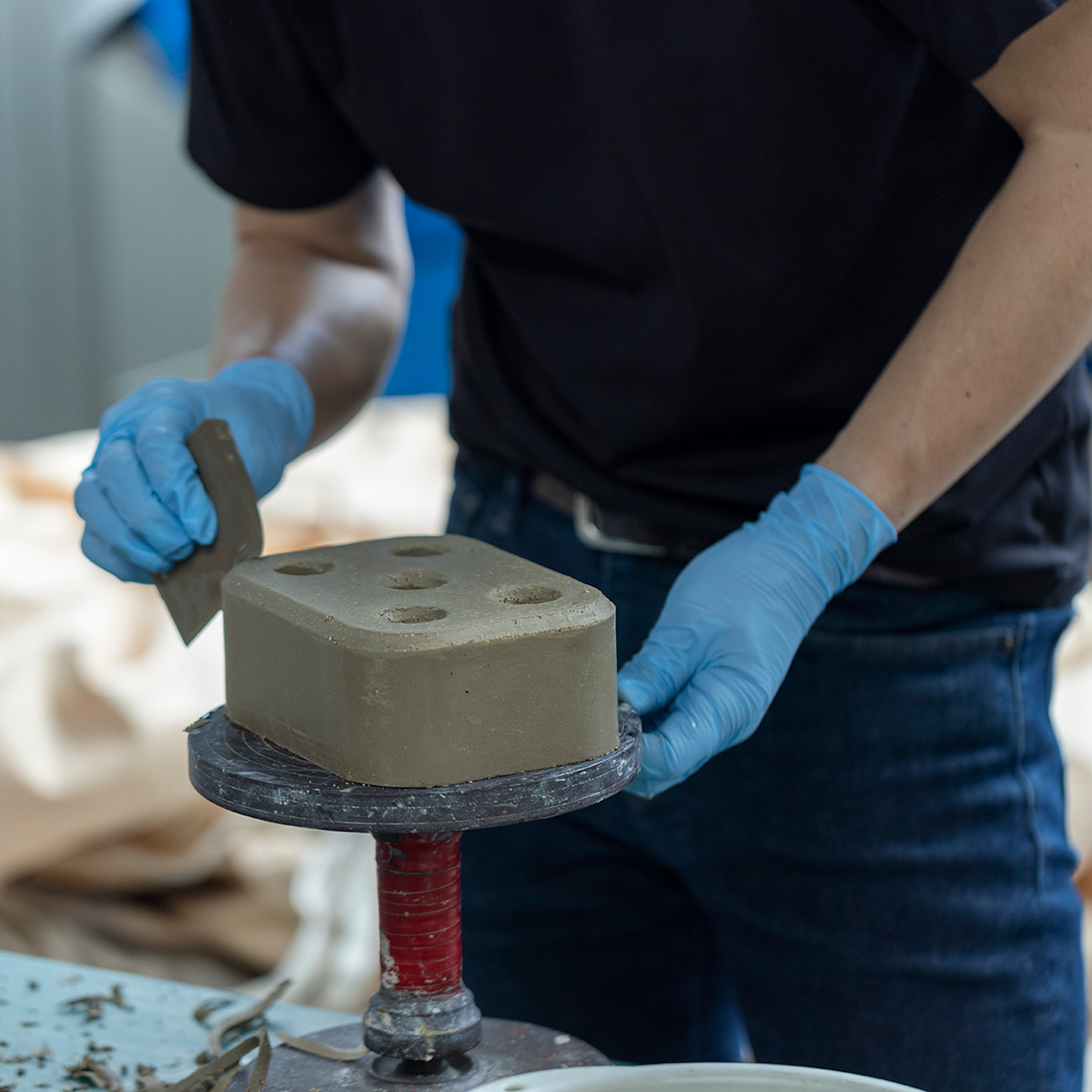 —— Was it designed to be used not only as an umbrella stand but also for other purposes?
Yes, I would like it to be used for various purposes. An umbrella stand is basically used at the entrance, so it can be used immediately as a door stopper. Also, considering its weight (about 2 kg), it can be used as a Japanese pickle stone or something (laughs).
The fact that it has other uses besides umbrella stand means that it will be moved often, but since it is a ceramic product, there is inevitably a risk of chipping or cracking. To limit this risk, we chamfered the corners of the body.
With this chamfering, I think we have created a quite friendly shape, clad in a soft impression. I think it is a good match of function and form.
—— In addition, I think it was the materials that you were quite particular about.
I believe, when we designers create products, the first thing we need to think about is materials. I had always envisioned that we would be able to develop a new approach by developing a new material, rather than just making umbrella stands out of ordinary materials, such as bricks or blocks.
When we visited the manufacturer in Tajimi, who has agreed to cooperate in the development and production of BRICK STAND, they showed us a material made from waste materials, saying, "We are currently developing this kind of material."
These were waste materials from ceramics and other materials in the Tajimi area, as well as waste from the mines in the area. There was also slag from Toyota's manufacturing process, as Toyota is the neighboring region. We decided to develop new material by mixing these normally discarded materials with virgin materials.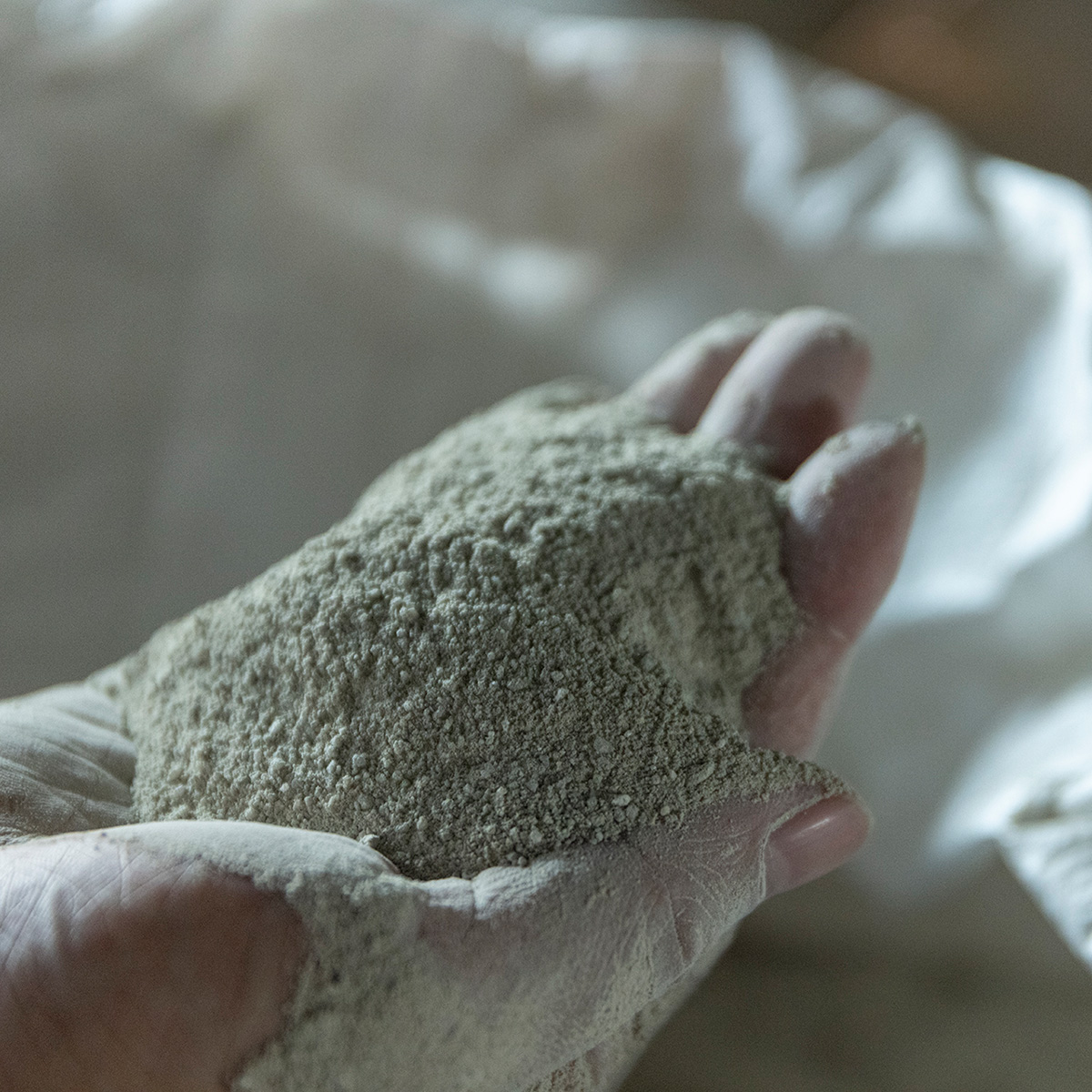 —— It took quite a long time from when we started development until we were satisfied with the result.
Yes, it was a long time. It took more than two full years.
Since it is not convincing to say, "We use 20% recycled materials," it was necessary to create a product with a higher percentage of recycled materials than possible, while at the same time having stability as a product . After repeated trial and error, we were able to develop a material made of 70% recycled material.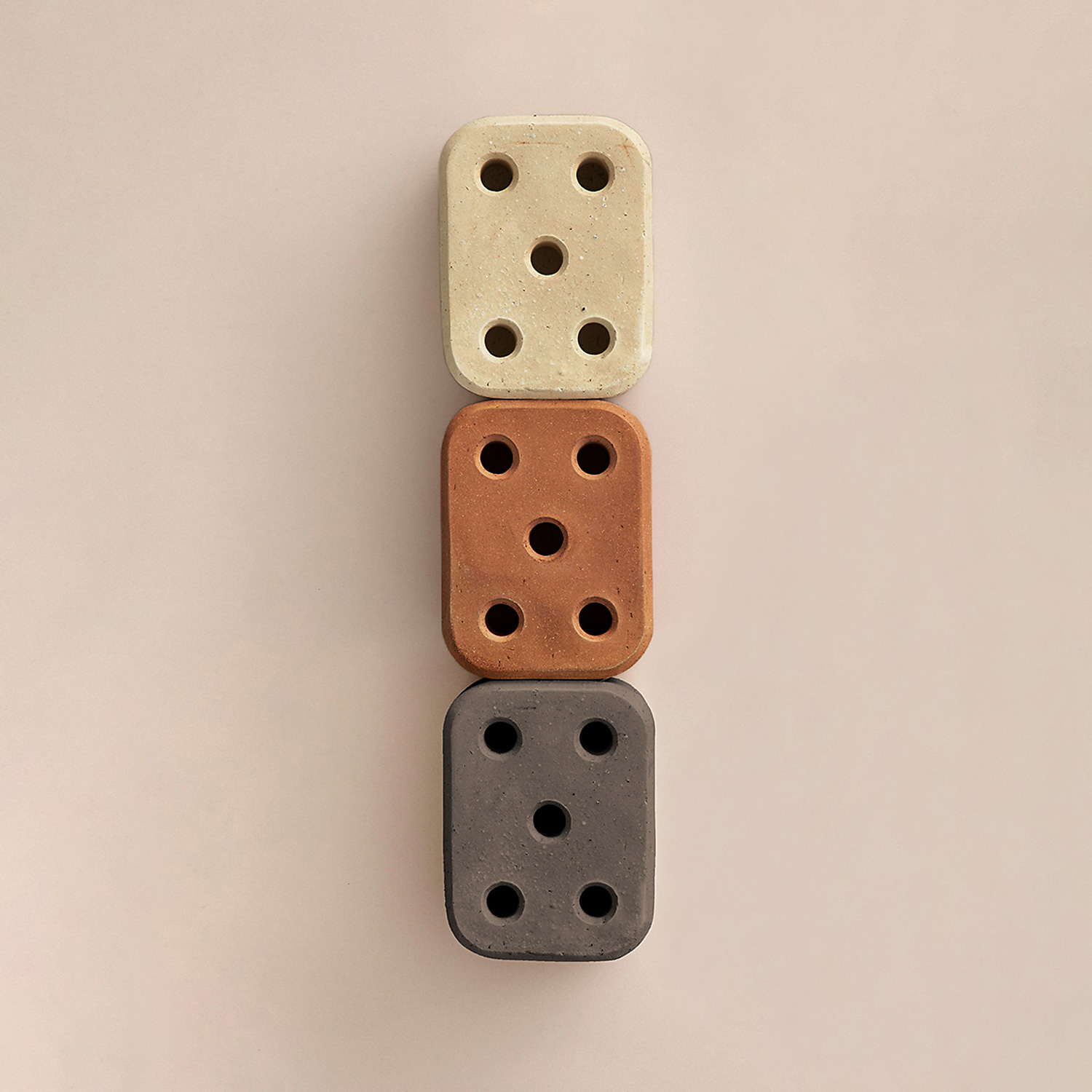 —— Please tell us about the color range of BRICK STAND.
I wanted to bring out the color of the material itself properly…rather than just painting over a white object that had been made.
In the process of developing recycled materials, we discovered through our research that we could produce different colors, such as red, black, and white, depending on the combination of materials.
Instead of applying colors to the finished product after baking, we used a certain mixture of recycled materials to express the colors. We decided to use the original color of the material as it is for this color variation.
The three colors, "brick red," "ash black," and "stone white," were created by properly blending recycled materials.
—— Have you made any other discoveries in using recycled materials?
By using recycled materials, the finished items will have individual differences in color and pattern. But I dare to say that I am eager to see something like "material differences."
It is only natural that quality must be guaranteed, but I think we are entering an era in which individual differences are a positive value, and are a good sign that a product is unique.
—— We agree that each one is different and that's why people love them.
That's right. I feel that a good product is created when the individual differences that occur in the first place and the color irregularities that appear when fired– due to the fact that it is made of recycled material –are successfully combined. Individual differences in color and pattern are often viewed negatively. However, we hope that this product will be one in which even the negative elements are taken as a positive.
Looking back, there were many puzzles which we had to figure out: from the inspiration of the design, to the development of materials, to the time when we were able to mass produce the product. Finally, over the years, the pieces have meshed tightly together, and this BRICK STAND has finally been completed.
—— We hope that people will learn about this story and that the product will be loved by many.
MOHEIM BRICK STAND Movie