STOOL
The flat top gives the impression of being slightly larger than normal, and the three legs stretch out smoothly.
An even more distinctive point is the tray on the lower level.
STOOL has a simple and clean design, yet it also has the appearance of an artwork.
The lower tray has a storage function and is lightweight, making it versatile.
In an interview with designer Keiji Ashizawa, we asked him about the key points and particulars of the design and structure.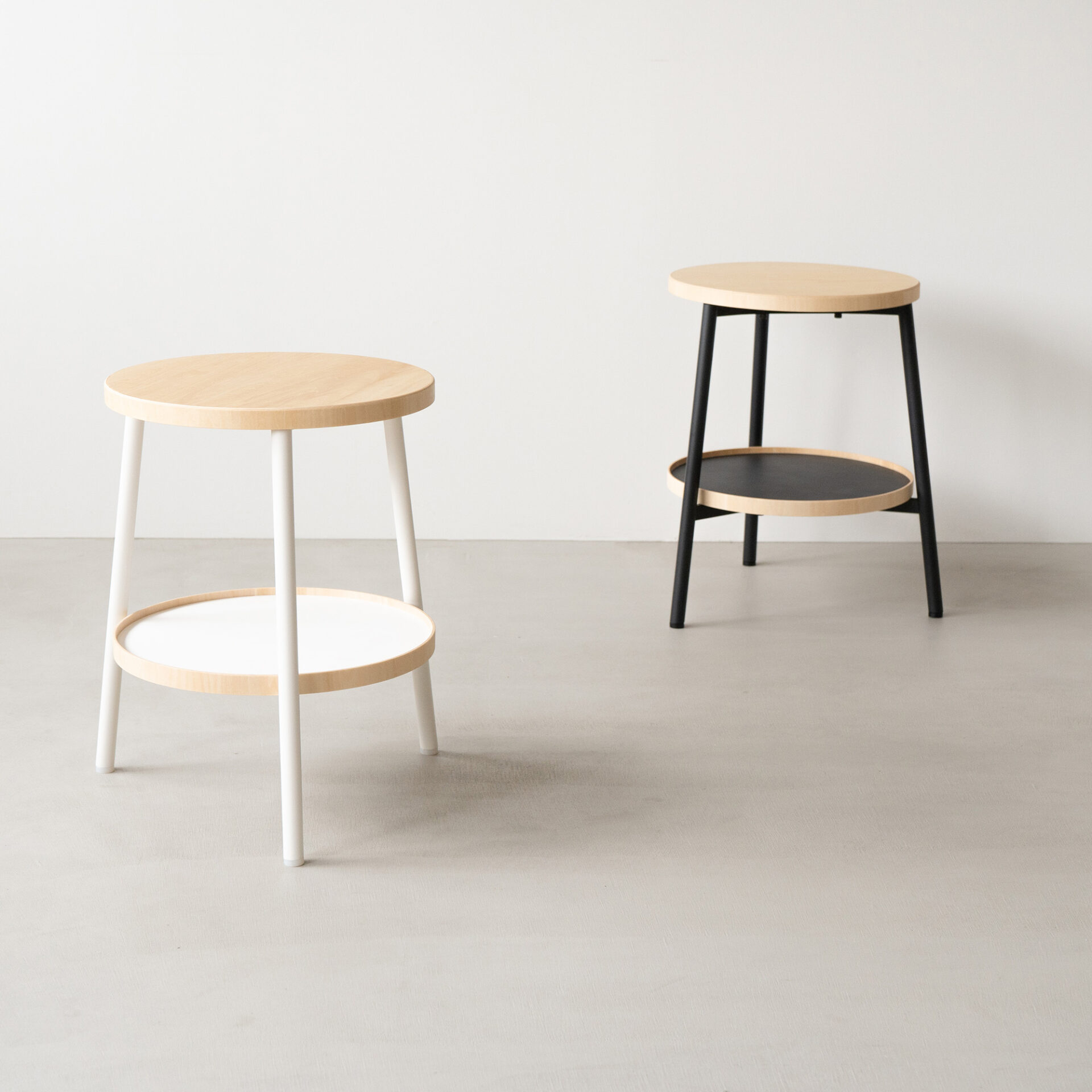 A simple and beautiful appearance with storage functionality
STOOL is designed to harmonize gently with any place. A tray on the lower level adds storage functionality.
Can be used not only for sitting, but also as a side table. At an entrance, in a living room, or in a bedroom…
With its ease of use, this stool can be used flexibly in a variety of locations.
---
PRODUCT STORY Vol.8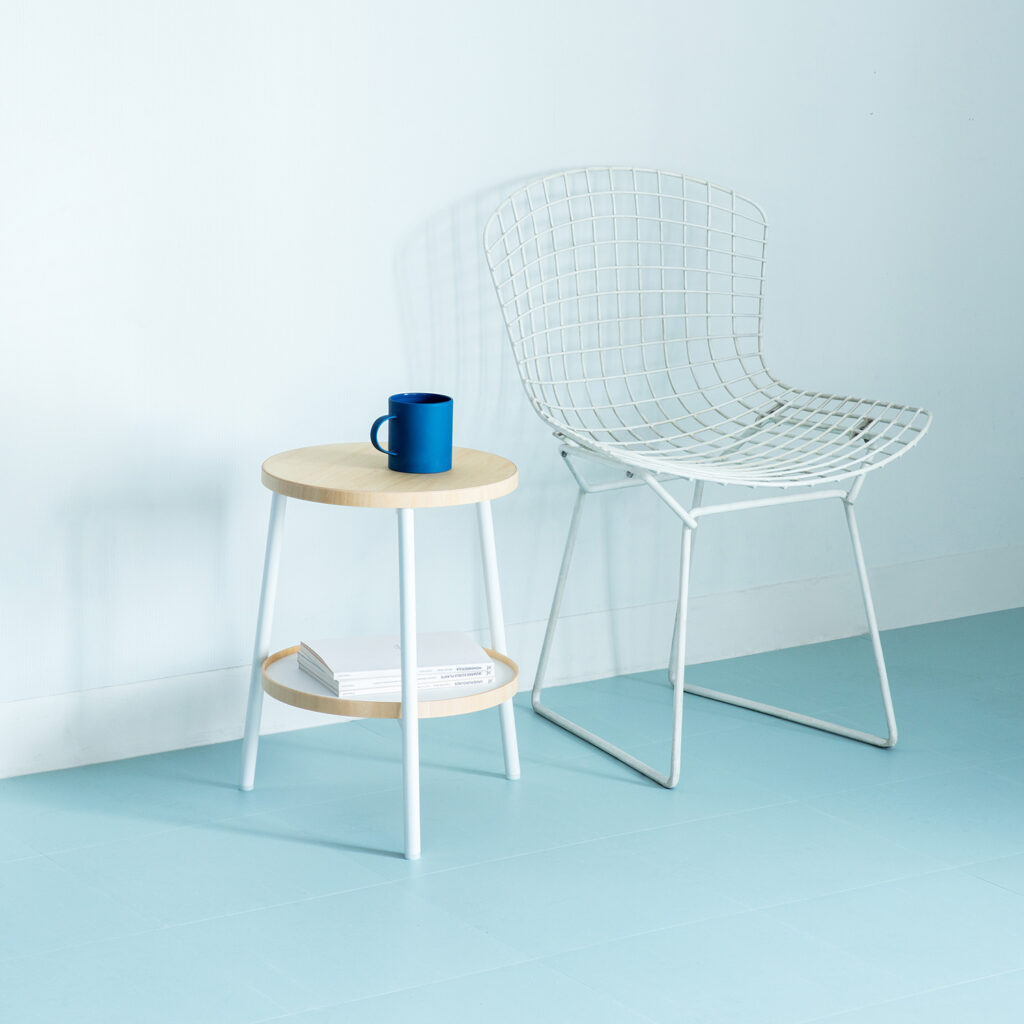 —— This is your second collaboration with MOHEIM, following TROLLEY. What did you think when you received this design offer?
When I was asked to design a stool , I felt that it was a very MOHEIM-like item. I felt that I had to create an item that would play a supporting role in an interior design…or rather, an item that would fit in a small urban living space….
—— Now, please tell us about the key points of STOOL's design.
Our first priority was to make the stool not only usable as a stool, but also lightweight and portable in a variety of locations. We designed the stool to be placed at entrances, in living rooms, bedsides, and anywhere else people want to use it.
—— You mentioned that the key is that it is lightweight and portable, can you tell us a little more about the reason?
Unlike chairs and tables, I think it is important for stools to be light. When not in use, stools are often tucked away on the side of a room or used for purposes other than sitting. Naturally, they are often moved. Even if they are not moved, I think it is important that the lightness of the stool has an impact on the space, or that people can sense the stool's degree of freedom.
—— By the way, I would like to ask you about the reason why you chose a structure with a tray on the bottom, even though it is a stool.
When we imagine having it placed in a variety of places, we are also thinking about having people place small items on the seat surface on a regular basis. However, there are times when people sit on the stool, and in that case, it would be nice to have a tray that would allow them to quickly place items elsewhere on the stool. ..so we designed the stool in this way.
—— Did you have the idea for the lower tray as a concept from the beginning?
Yes, that's right. I wanted to add something more than just a "sitting" function as a stool. Rather than just a "shelf," I thought that by making it a tray where important items could be placed, it would create an "organized" space, both in the living room and at the entrance.
We thought that the three legs would provide better access to the tray below. In addition, the three-legged structure gives the stool a kind of "sculptural" feel.
——Please tell us what else you focused on in terms of design and what are the distinctive features from your point of view.
The stool has a slightly ambiguous function: it is a stool, storage, and display rack…but even if the emphasis is on one of these functions, we thought about how it would look in a space.The upper top and lower trays are similarly shaped, with a frame-like structure of wood surrounding them. It is a small part, but I like this nice little detail.
Although this is a different story from the design of the stool itself, one point is that, like TROLLEY, the packaging is compact and knockdown (to be assembled), in consideration of transportation cost reduction and inventory management aspects.
We believe that this item has achieved a good balance in terms of solid functionality, good looks, ease of placement, and pricing.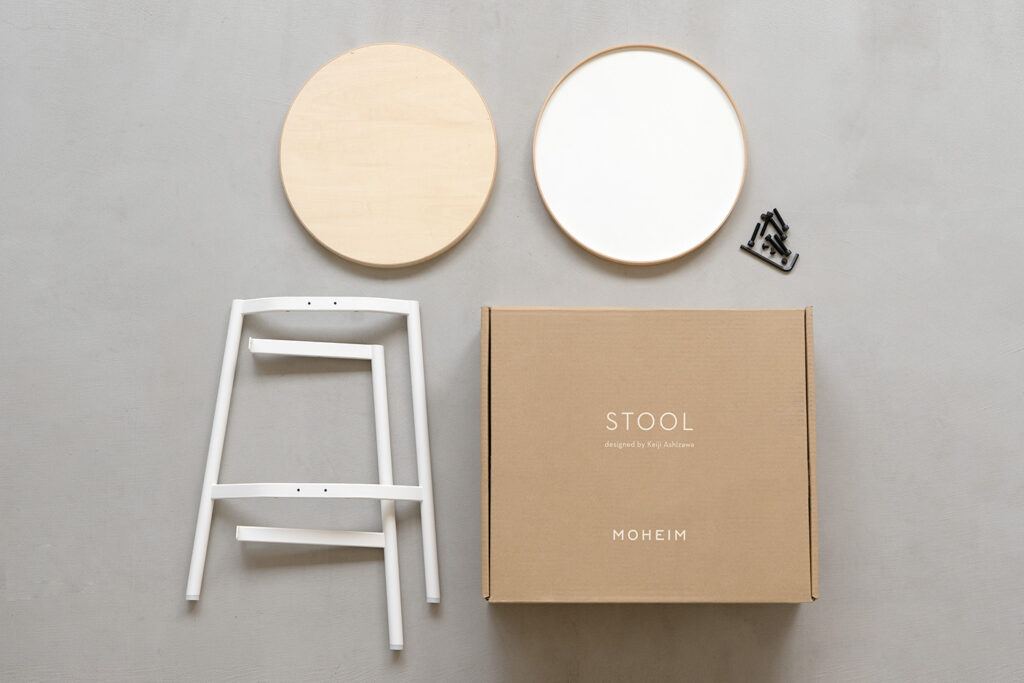 —— Please give me suggestions on how to use STOOL.
Entrance, hallway, living room, bedroom, bathroom… I think there are many places in your home where you can put this stool. And even with such a large number of options, I designed this stool to be something that you can place anywhere you want.
It can be used in the living room or bedside as a stool, sitting on it when putting on shoes, or at the entrance as a storage space for shoe horns or keys…it can be used in various ways depending on the user's ingenuity. There are also other ways to use it as a display rack by placing your favorite items or objects on it. We look forward to seeing that it is used in a variety of situations.
—— Finally, what are your expectations for MOHEIM?
I would like MOHEIM to continue to propose items for compact yet affluent living…for such a lifestyle.